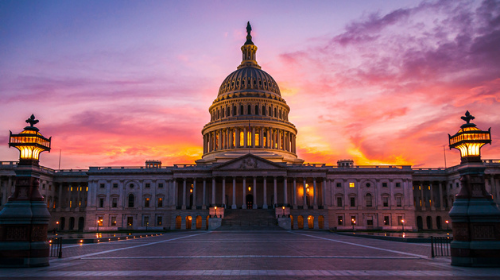 On Apr. 22, more than 1,000 Californians, many accompanied by their infants and children, lined up outside and packed four floors of the state Capitol building in Sacramento. Patiently, they waited to participate in the democratic process and testify against SB277 in an historic demonstration of citizen rejection of forced vaccination laws. The bill is authored by pediatrician-turned-politician Richard Pan, MD (D-Sacramento) and attorney Ben Allen (D-Santa Monica), who are lobbying to remove personal belief vaccine exemptions so children cannot attend school unless their parents show proof they have received multiple doses of federally recommended vaccines.
Californians line up before an Apr. 22, 2015 Senate Education Committee hearing to oppose SB277, a forced vaccination bill to remove non-medical vaccine exemptions.
for the condensed version.
Overwhelming Citizen Opposition to SB277 Ignored by CA Senators
A week earlier, bill opponents outnumbered bill supporters by 10 to 1 in a three hour Senate Health Committee hearing. Almost twice the number of parents, grandparents, business owners, health care workers, teachers and other concerned citizens showed up to testify against the bill in a three hour Apr. 15 Education Committee hearing that saw the Committee chair call for deferral of a vote until Apr. 22, when it was passed out of Committee with a 7 to 2 vote. Then, in another three hour public hearing in the Judiciary Committee on Apr. 28, hundreds of Californians testified again in opposition to the bill and very few testified in support.

The bill passed on a 5 to 1 vote and was referred to the Senate Appropriations committee.
Lobbying for SB277 are wealthy and powerful medical trade and public health associations, many of which receive pharmaceutical and federal funding. It is being opposed by non-profit organizations defending informed consent and health freedom, including NVIC, California Coalition for Health Choice, California Chiropractors Association and many others. See SB277 Analysis.
View Apr. 15 Senate Education Committee hearing. (Begins at 00:01:28 and ends at 03:39:52)
View Apr. 8 Senate Health Committee hearing. (Begins at 00:15:40 and ends at 03:40:00)
Vermont Senate Blocks Parents From Testifying on H98
On Apr. 22, 2015 while many parents were on spring break with their children, the Vermont Senate Health and Welfare Committee held a hearing that was not recorded for public viewing and only allowed doctors to testify about repeal of the philosophical exemption to vaccination. The sneak attack on Vermont families supporting informed consent rights was engineered by Senator Kevin Mullin (R-Rutland) and colleagues, who tacked an amendment onto an unrelated bill (H98) sponsored by Senator George Till, M.D. (D-Chittenden).
Vermont parents without medical or academic credentials were barred from participating in the democratic process and testifying in opposition to the bill. The Senate approved the amendment to repeal philosophical vaccine exemption 18 to 11 and quickly passed the bill on a voice vote.
Jennifer Stella, president of the Vermont Coalition for Vaccine Choice, which spearheaded a successful citizen-led effort in 2012 to oppose the first attempt by Senator Mullin and Till to eliminate the exemption, told the Associated Press, "This decision basically says that you're not allowed to have any other health philosophy except for the religion of pharmaceuticals. People need to have the right to choose, particularly for their kids."
After the bill was rammed through the Senate, NVIC State Advocacy Director Dawn Richardson commented that it was done using "undemocratic gangster like tactics to completely block public participation with no hearings taking parent testimony on a bill that now forces vaccination as a condition to a child being educated in Vermont."
Sign up for the NVIC Advocacy Portal. If you are a Vermont citizen, you can use the online Portal to immediately contact your representatives and Governor to let them know what you think about HB98.
View Apr. 22 testimony by doctors opposing removal of the VT philosophical exemption.
Texas Bill to Mandate Vaccines For Teachers
NVIC State Advocacy Director Dawn Richardson, who also founded Parents Requesting Open Vaccine Education (PROVE), testified against SB1114 on Apr. 23, 2015 in a Texas Senate Education Committee hearing and answered questions posed by legislators. The bill's sponsor, attorney Sylvia Garcia (D-District 6) wants to mandate vaccines for all teachers and public school employees. The committee did not vote on the bill and it is pending.
View Apr. 23 Texas Senate Education Committee hearing. (Begins at 39:00 and ends at 1:28). Dawn's testimony begins at 48:00 followed by Q&A and statements by Senator Donna Campbell, M.D. (R-District 25) opposing the bill.
Dawn is urging everyone in Texas to sign up for the NVIC Advocacy Portal to keep up to date with the content and status of 18 vaccine-related bills, four of which are actively in play right now (SB1114; HB2171; HB2474; HB2006).She said, "Unfortunately there is misinformation being put out by medical and special interest groups that support forced vaccination. It is crucial that your legislators understand what the bills do and what they don't do. Claims are being made that simply aren't true. It is very important that we clear up some of these false impressions being spread by those who want everyone vaccinated no matter what."
Leave a comment
Your email address will not be published. Required fields are marked with an *
15 Responses to "Over 1,000 Californians Show Up to Testify; Vermont Politicians Cut Parents Out of the Democractic Process; Texas Pushes Back on Teacher Vaccine Mandates"