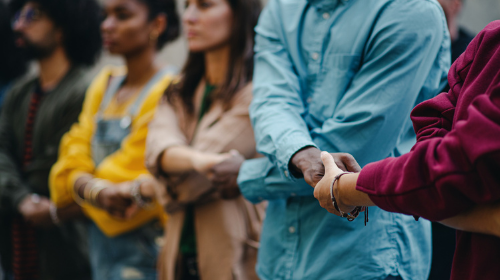 For many years, NVIC has been stressing the importance of every one of us having the courage to take action against the oppressive attempts in many state legislatures to deprive Americans of the basic human right to exercise informed consent to medical risk taking decisions to accept, delay or decline one or more vaccines for ourselves and our children.
Many of you have taken NVIC's message seriously and now you are taking positive action and making yourselves heard in state legislatures. Citizens are activating across America to protect vaccine exemptions and defend vaccine freedom of choice. In some states, proactive legislation is also being introduced to expand vaccine exemptions.
Staying Engaged and Alert
During the 2016 legislative session, NVIC's free online Advocacy Portal has tracked 104 bills in 33 states, as well as four federal bills. Of these bills, 17 were filed in 11 states to restrict or remove vaccine exemptions. NVIC has issued action alerts for bills, which are still active, in the states of Colorado, Connecticut, Hawaii, Illinois, New York, Ohio and Rhode Island.
This year, NVIC Advocacy Portal users were also informed about vaccine-related bills to support in the states of California, Massachusetts, Michigan, Mississippi, New Hampshire, New Jersey, New York, Ohio, Oklahoma, Rhode Island, and South Dakota.
State vaccine bills currently being monitored, and which could become active in the future and require immediate citizen action, are: Arizona, California, Colorado, Connecticut, Delaware, Hawaii, Iowa, Indiana, Kansas, Louisiana, Massachusetts, Maryland, Michigan, Mississippi, Minnesota, Missouri, Nebraska, New Hampshire, New Jersey, New York, Ohio, Oklahoma, Pennsylvania, Rhode Island, South Dakota, South Carolina, Tennessee, Utah, Virginia, Washington, Wisconsin, and West Virginia.
Your Participation Makes a Difference!
People are waking up across the U.S. and, rather than being kept on the defensive, are beginning to go on the offensive and advocate for vaccine informed consent rights. This is a healthy sign of of growing awareness and activism!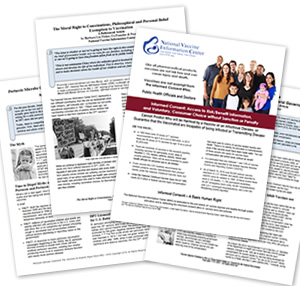 The grassroots vaccine education advocacy effort in the state legislature by Coloradoans during the past two years, many of them users of NVIC's Advocacy Portal, made it possible for NVIC to secure bi-partisan support for an NVIC-sponsored vaccine education day at the state Capitol in Denver this month. It provided an opportunity for NVIC to be a vaccine policy and law information resource to increase the knowledge base of Colorado's legislators about the importance of preserving informed consent protections in the form of flexible medical, religious and philosophical belief vaccine exemptions in state vaccine policies and laws. NVIC was able to set up an information booth in the Capitol building because of positive relationship-building that our volunteer citizen advocates in Colorado have individually created with their own state legislators, which is central to effective vaccine education and advocacy work.
NVIC has added new downloadable handouts to our Ask 8 Vaccine Information Kiosk that were distributed at the Colorado state Capitol. These handouts were an effective tool in educating legislators about protecting vaccine exemptions. Look for more additions soon.
It Isn't Over, Until It's Over
Though we had a wonderful educational event in Colorado's state Capitol, this year Colorado state advocacy director Cindy Loveland and I have also been working with our dedicated volunteers to oppose bad vaccine bills introduced in our state, just like many citizens are fighting bad vaccine bills in other states this year.
Colorado's HB 1164 proposed to discriminate against parents filing vaccine exemptions for their children by robbing them of their federal privacy protections and requiring that they be actively tracked in the state's vaccine registry. While the bill has been temporarily laid over and likely to die during this legislative session, it could easily be resurrected before the session is officially over. NVIC was able to force an admission from the Colorado health department that health officials acted before HB 1164 passed and improperly issued misleading vaccine exemption information to parents of children in daycare and schools. Unfortunately, the correction made by the health department this week does little to inform parents properly. NVIC volunteers in Colorado are now focused on getting good information into the hands of all parents to correct the egregious actions of the health department.
Why tell Colorado's story? We anticipate more of this type of legislation and rule-making activity in other states in the coming year. Colorado's current situation is also the perfect example of why it is never wise to count any legislative wins or losses until the legislative session is actually officially over. It is not unusual for bills that we thought were "dead" to come back life or to have amendments added to previously non-threatening legislation that quickly turns a good bill into a bad bill threatening vaccine informed consent rights. It is also important to remember that, after legislation is passed, advocacy must continue to prevent government agency overreach when the law is implemented.
Once the 2016 legislative sessions have concluded, NVIC will update our readers on the final outcome of the many vaccine bills we tracked during this years' legislative session. Until then, please stay engaged and log into NVIC's Advocacy Portal to stay up to date with what is happening in your state so you can take action!
Leave a comment
Your email address will not be published. Required fields are marked with an *
5 Responses to "NVIC's 2016 Update on State Vaccine Bills – Advocacy in Action"