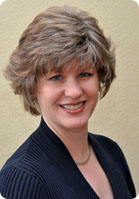 Theresa Wrangham, immediate past president of SafeMinds, has been appointed Executive Director of the National Vaccine Information Center. She joins the NVIC management team with more than 25 years experience in project management, accounting, business administration and child health advocacy.
As a Usui Reiki master, former AMTA massage therapist and mother of two teenage daughters, Theresa has a holistic health perspective on raising a healthy child. She became a parent advocate as a result of her daughter Deanna's life-threatening asthma, as well as her daughter Rachel's diagnosis of Autism Spectrum Disorder (ASD).
As Executive Director of NVIC, Theresa will assist the Board and management with identification and implementation of organizational goals and objectives and in strategic planning for business, communications and research programs. She will officially assume her position on April 1, 2010.
Theresa's professional career includes positions in budgeting and full scale accounting systems, office management, and small business administration. Her experience in the holistic healthcare field includes spending five years in Saudi Arabia and Abu Dhabi teaching Usui-based Reiki and speaking about alternative healthcare within a multi-cultural environment.

In 2001, Theresa co-founded the Autism Society of Boulder County (ASBC) in Colorado and served five terms as its president. She has served on the Board of Directors for SafeMinds since 2007 and serves on the advisory boards for the US Autism & Asperger Association and the American Medical Autism Board. She is a representative on the Boulder Valley School District Special Education Advisory Committee.
She has helped to raise public awareness of biomedical causes and treatments for autism by publishing Colorado's first autism specific resource guide and coordinating conferences and lectures, as well as Colorado's consensus statement supporting the Combating Autism Act. In 2005, she worked with local agencies to establish a parent-directed treatment program for individuals with autism, who are ineligible for state services.
She collaborated with Google to create Project Spectrum, a program designed to identify possible career paths, give educators classroom tools and assist parents in obtaining special education services for children with autism. In 2006, the Boulder County Business Report recognized Theresa as a Health Care Hero.
Theresa has published articles in Mothering Magazine, The Autism File, Age of Autism, Pathways magazine and ASBC and SafeMinds newsletters She has been featured in local and national television and print news reports on autism issues and is a speaker at autism conferences She represented SafeMinds in a 2009 H1N1 vaccine stakeholder meeting sponsored by the Centers for Disease Control.
"Theresa Wrangham will play an important role in shaping the future of the vaccine safety and informed consent movement in America," said NVIC co-founder and president, Barbara Loe Fisher. "She comes to us with a wealth of business and consumer advocacy experience and we are delighted to welcome her to NVIC's management team."
Leave a comment
Your email address will not be published. Required fields are marked with an *
2 Responses to "Theresa Wrangham Appointed NVIC Executive Director "