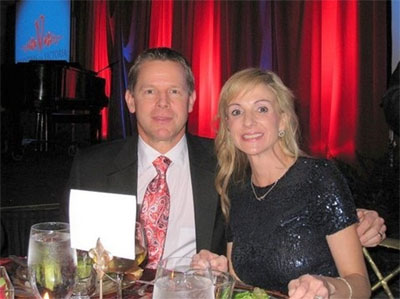 New Annual Event To Fund Vaccine Safety Research and Protection of
Informed Consent Standards
"Valentines for Victoria" co-founders Danny and Dr. Stephanie Christner hosted the 1st annual Valentines for Victoria dinner and auction benefiting the National Vaccine Information Center (NVIC). The event was created in remembrance of Victoria Christner, who died after reactions to childhood vaccines, to initiate dialogue and awareness about the need for vaccine safety and informed consent protections in public health policies.
Dinner Dance at Historic Southern Hills Country Club
The evening's festivities included an auction, dinner dance and educational presentations. The event was held at the historic Southern Hills Country Club on Saturday, February 13, 2010 and raised more than $100,000 that will be used to create vaccine safety awareness, promote informed consent and conduct scientific research into health outcomes associated with vaccination.
Musician Danny Cahill of "The Biggest Loser" fame entertained attendees with his latest song Second Chance. Twelve year old Sam Debold also entertained guests with piano stylings of his favorite performing artists: U2, Eagles and Eric Clapton.
More than 300 people attended the sit down dinner and dance event and were also treated to a live auction featuring vacation getaways to Vail and Sun Valley and football box tickets to a Dallas Cowboys game.
Vaccine Public Education Forum Features Expert Panel
Earlier in the day, "Valentines for Victoria" sponsored a public education forum held at the Southern Hills Marriott attended by parents and health care professionals. The focus of the public forum was to encourage dialogue about the ethical principle of informed consent and making educated health choices, including vaccine choices.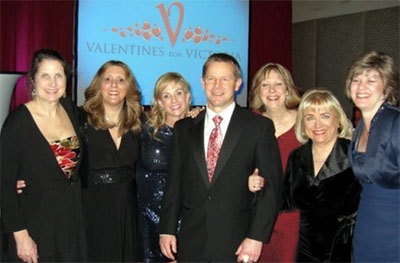 From left to right: Dr. Vicky Debold; Dawn Richardson, Stephanie and Danny Christner; Kathi Williams; Barbara Loe Fisher and Theresa Wrangham.
NVIC's expert panel featured NVIC co-founder & president, Barbara Loe Fisher; NVIC Director of Research & Patient Safety, Vicky Debold, PhD, RN; NVIC Medical Advisory Board Member, Lawrence Palevsky, MD; and NVIC Director of State Advocacy, Dawn Richardson. The panel discussion was moderated by Theresa Wrangham, NVIC's Executive Director.
Also attending and providing staff support for the event were NVIC Co-founder & Vice President Kathi Williams; NVIC Director of Operations Paul Arthur; NVIC Board Member Paul Mulhauser with his wife, Linda Mulhauser, and Stephen Mulhauser, whose original art work was included in the silent auction.
Leave a comment
Your email address will not be published. Required fields are marked with an *
5 Responses to ""Valentines for Victoria" Raises More Than $100,000 for NVIC's Education and Research Programs "