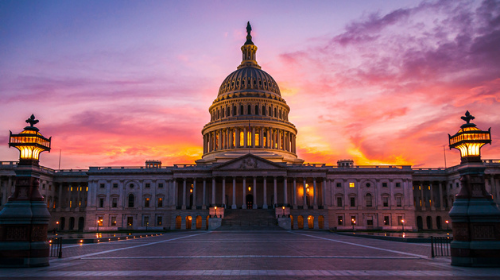 On March 8, 2011, the federal Advisory Commission on Childhood Vaccines (ACCV) unanimously passed recommendations made by the Institute of Medicine (IOM) Report Task Force on Updating the
Vaccine Injury Table (VIT)
, which was created under the National Childhood Vaccine Injury Act of 1986 (Public Law 99-660) as a guide for special masters evaluating federal vaccine injury compensation claims. The VIT has not been substantially updated since 1997, even though the Centers for Disease Control has added nine more vaccines to the recommended childhood vaccination schedule since then.
Congress Gave Pharma Liability Shield
After major pharmaceutical companies threatened to leave the U.S. without childhood vaccines unless they were shielded from vaccine injury lawsuits, the U.S. Congress passed the 1986 law giving major pharmaceutical companies a partial liability shield. The law also shielded pediatricians and all vaccine providers from civil liability for vaccine injuries and deaths.
Co-founders of the National Vaccine Information Center (NVIC) were successful in inserting vaccine safety provisions in the 1986 law, as well as protecting the right of vaccine injured plaintiffs to sue if it could be proven the company could have made a vaccine safer. However, in
2011 the U.S. Supreme Court completely removed all liability
from pharmaceutical corporations making and selling vaccines in the U.S.– even it could be proven the vaccine could have been made less harmful.
Vaccine Injury Compensation Was Supposed to Be Expedited
The purpose of including a Vaccine Injury Table of Compensable Events in the 1986 law was to list specific clinical symptoms and injuries on the Table to facilitate administrative procedures for the special masters to allow the awarding of expedited compensation by acknowledging there was enough evidence to argue for vaccine injury in the absence of a more biologically plausible explanation. Vaccine injury claims filed for an "on the Table" injury were to be awarded quick and unopposed compensation, while "off the Table" injuries would have to be argued by plaintiff's lawyers, who are opposed by Department of Justice lawyers representing the Secretary of Health and Human Services, in front of a special master in the D.C. Court of Claims to essentially "prove" causation, much like a civil court trial.
Highly Adversarial "Off Table" Claims Process
Since the mid-1990's, most vaccine injury compensation claims have been filed for "off the Table" injuries because the VIT has not been updated to include symptoms and injuries for new vaccines. This has resulted in fewer vaccine injury claims being awarded through a non-adversarial, expedited administrative process and most claims being vigorously opposed by the Departments of Justice and DHHS in a hotly contested, argumentative process that involves huge expenses incurred by families to obtain expert testimony to prove vaccine injury occurred.
"The federal compensation claims process has become notorious for being adversarial, traumatic, lengthy, expensive," said NVIC co-founder and president, Barbara Loe Fisher, who called the system "
a failed experiment in tort reform"
in a 2008 presentation to ACCV. "Two out of three plaintiffs seeking federal compensation being turned away empty handed," she said, "and that is not what parents of vaccine injured children were promised by Congress in 1986."
ACCV Recommendations Based on 2011 IOM Report
The ACCV's recommendations were based on the landmark report by the Institute of Medicine –
Adverse Effects of Vaccines: Evidence and Causality
- published in August 2011. Below are the ACCV's unanimous recommended compensable event additions to the VIT, which are based on the IOM Task Force report.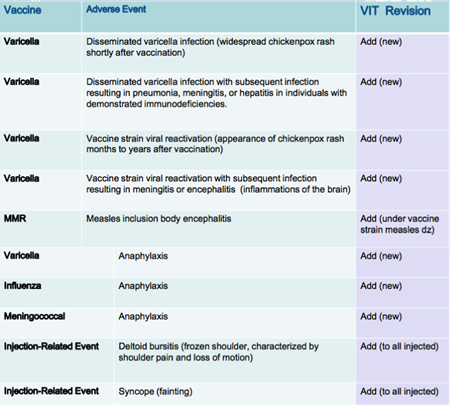 I attended the meeting via telephone and webinar and was impressed by the thoroughness and thought put into the ACCV's discussion and recommendations. They were inclusive of the IOM's findings when formalizing them into recommendations which, hopefully, will lead to an expansion of the VIT so more vaccine injured plaintiffs can receive non-adversarial, expedited federal compensation.
The ACCV is also planning to take up streamlining the existing VIT to clarify definitions of clinical symptoms and injuries to facilitate the compensation process.
IOM Report Points Out Vaccine Safety Science Gaps
When I made personal public comment during the ACCV meeting, I said that, while this proposed expansion to the VIT is welcome, there is cause for concern because IOM could not determine whether 85% of reported adverse events associated with eight routinely used vaccines were or were not causally related to those vaccines. The IOM Committee of experts making the report in 2011 was hampered by the lack of quality vaccine safety research, just as previous IOM Committees were hampered. I called on the ACCV to fulfill their charge to not only help facilitate the compensation of vaccine injuries but also to prevent vaccine injuries and recommended that DHHS fund independent research to close acknowledged vaccine safety research gaps so more vaccine injuries would be recognized and compensated.
DHHS Official Wants Vaccine Injury Trust Funds for Research
Geoffrey Evans, M.D., Director, Division of Vaccine Injury Compensation, and the ACCV Executive Secretary, noted that recommendations to fund research had been discussed in previous years by the ACCV and indicated that the sticking point was how to fund the research. He went on to suggest taking money from the Vaccine Injury Trust Fund, which was created to fund awards to the vaccine injured, and using it for vaccine research (presumably research conducted by federal health officials). ACCV's Vaccine Injury Attorney Representative Ed Krause pointed out that only an act of Congress could divert compensation funds for research and added that it was not incumbent upon the ACCV to provide funding solutions in their recommendations for ongoing research.
For myself, I cannot help but wonder how long trust funds would last under Dr. Evans scenario or what kind of research would be done if it was left in the hands of the same federal officials already fighting almost every vaccine injury claim in order to deny vaccine injury awards to two out of three plaintiffs. I believe that much needed ongoing research is likely to reveal that the VIT must be substantially expanded to keep pace with the ever expanding number of vaccines recommended in the U.S. DHHS has billions of dollars available for research that could be re-directed from new vaccine research to research evaluating the safety of existing vaccines. Funds that Congress intended to be used to compensate vaccine injuries must continue to be used for that purpose.
Public Engagement and Comment Period on Expansion of VIT
Next steps in the expansion of the VIT will include the ACCV creating a public engagement and comment period for the proposed expansion. The timeline for public engagement has not yet been determined. NVIC will keep NVIC Vaccine E-newsletter readers informed of the timeline as it unfolds and strongly encourages participation in the public engagement process.
The ACCV will meet again on June 14 and 15, 2012. The meeting is open to the public and the agenda and meeting materials are generally made available 2-3 weeks in advance and will be posted
here
. Transcripts and materials for previous meetings can be found
here
.
Leave a comment
Your email address will not be published. Required fields are marked with an *
13 Responses to "Federal Government Poised to Expand Vaccine Injury Table"