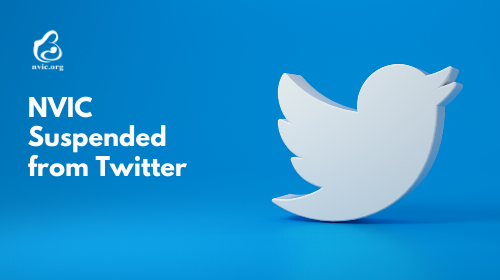 The 11 year-old Twitter account of the 39-year old educational charity, the National Vaccine Information Center (NVIC), was suspended without warning on Sunday afternoon, May 23, 2021. NVIC's Twitter handle was @NVICLoeDown and the account had about 21,000 followers at the time it was suspended. In March, NVIC's account with Facebook was terminated and, in April, NVIC's Instagram account was terminated without explanation, together affecting over 300,000 followers.
No other major non-profit organization that reports on vaccine science, policy, law and ethics has been removed from all three social media platforms.
NVIC Co-founder and President Barbara Loe Fisher said,
"Those who fear the truth have no option but to censor it. Big Tech and Big Pharma are business partners, just like the federal government and Big Pharma have become business partners over the past four decades. Now political operatives and Silicon Valley profiteers trying to control the public conversation on the world wide web are targeting truth tellers in order to silence them. NVIC has served as a voice for the vaccine injured since 1982 and we will continue to tell the truth about vaccination and health in all forums, no matter who tries to stop us."
Fisher urges everyone to leave social media platforms that engage in censorship and use platforms that do not censor. Follow NVIC on MeWe, Parler, Telegram, Gab, Brand New Tube and Bitchute.
Leave a comment
Your email address will not be published. Required fields are marked with an *
17 Responses to "NVIC Suspended from Twitter"