Ask 8 Information Kiosk
---
Explore FREE downloadable educational materials.
What is the History of Rotavirus Vaccines in America and Other Countries?
Updated August 15, 2022
---
---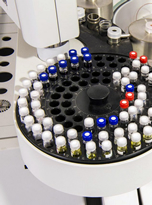 Rotavirus vaccine development began soon after the virus was discovered in 1973, and in August 1998, the FDA approved RotaShield, an oral live virus vaccine containing four components (tetravalent) derived from a strain of rhesus monkey rotavirus. Manufactured by Wyeth-Lederle, the vaccine was approved to be administered in a 3-dose series at about 2, 4, and 6 months.
RotaShield Clinical Trial Data
Prior to the vaccine's approval, Dr. Margaret Reynolds of the U.S. Rotavirus Efficacy Group presented information on the U.S. pre-licensing clinical trials at the February 12-13, 1997 CDC Advisory Committee on Immunization Practices (ACIP) meeting.
In her presentation, Reynolds reported that in the U.S., clinical trials involved 1,278 infants between five and 25 weeks of age and the infants were randomized to receive a placebo, a monovalent vaccine, or the tetravalent rotavirus vaccine (RotaShield). Infants participating in the study were also permitted to receive other routine vaccines and safety was only studied for five days following administration of each vaccine dose. Fever, diarrhea, and vomiting were noted adverse events following vaccine administration, and four vaccine recipients were hospitalized for these symptoms, with one testing positive for rotavirus. All reactions occurred following administration of dose one or dose two, and primarily on day three or four post vaccination. Many infants who participated in the study also experience a runny nose.
This study reported that the tetravalent rotavirus vaccine had an overall vaccine efficacy against all rotavirus serotypes of 49 percent; however, efficacy rates were reported to be better against severe disease.
Intussusception, a serious condition where a segment of the intestines slides inside another, was noted in the pre-licensing clinical trials and briefly discussed in the FDA review process; however, members of the Vaccines and Related Biological Products Advisory Committee (VRBPAC) chose to ignore the findings and the vaccine was approved for use on August 31, 1998. Additional discussions on intussusception and its association to RotaShield vaccine occurred at the June 1997 and February 1998 ACIP meetings but the panel dismissed any connection.
Serious Vaccine Reactions Follow RotaShield Vaccine Approval
On March 19, 1999, the CDC published its recommendation on the use of RotaShield vaccine and reported that five cases of intussusception, a serious bowel blockage requiring medical attention, had occurred in infants who had received a rotavirus vaccine in comparison to the one case among placebo recipients. The panel, however, reported this finding to be statistically insignificant.
By the spring of 1999, several reports of intussusception following RotaShield vaccine administration had been made to the Vaccine Adverse Events Reporting System (VAERS). No mention of safety concerns regarding RotaShield were made at the June 1999 ACIP meeting; however, on July 16, 1999, the CDC announced that it was suspending its recommendation of RotaShield due to the increasing number of intussusception reports. Later that year, at the CDC's October ACIP meeting, the committee voted to withdraw its recommendation in light of evidence which found that intussusception occurred in one out of every 5,000 infants who received the vaccine.
Investigation Reveals Conflicts of Interest in Vaccine Approval Process
In August of 1999, the Committee on Government Reform launched an investigation into Federal vaccine policy as it pertained to possible conflicts of interest among Federal policy-makers. The Committee focused its investigations on the CDC's Advisory Committee on Immunization Practices (ACIP) and members of the Vaccines and Related Biological Products Advisory Committee (VRBPAC).
Their investigation found numerous conflicts of interest among members of both committees and raised significant concerns regarding the approval process for vaccines, including the RotaShield vaccine.
Conflicts identified with VRBPAC included:
Many VRBPAC committee members were found to have significant ties to industry, owned stock, or else received funding from pharmaceutical companies.
VRBPAC members reported concerns regarding RotaShield but still chose to vote for the vaccine.
For the RotaShield vaccine approval vote, five temporary members were permitted to vote even though the committee's charter only allowed for four.
Committee members who were ineligible to vote due to conflicts were still allowed to participate in discussions.
Despite term limits, several committee members were permitted to remain on committees for many years. Additionally, some members were found to serve on both the FDA and the CDC even though this was against policy.
Conflicts identified with ACIP included:
ACIP members did not fully declare their conflicts of interest.
Committee members were given a blanket waiver that allowed them to participate in discussions on any topic, even if there was a conflict of interest.
ACIP members were permitted to vote on vaccine recommendations, even when they had financial ties to drug companies developing similar or related vaccines.
ACIP liaison members were not required to disclose their organization's financial conflicts of interest.
For the ACIP rotavirus work group, seven out of the ten members had identifiable conflict of interests with vaccine interest groups and pharmaceutical products. Additionally, the meetings were held in private and no meeting notes were taken. One work group member who had significant conflicts of interest and was ineligible to vote on RotaShield use was permitted to work extensively on the recommendations.
ACIP failed to include any consumer representatives even though they were required to.
The review of the ACIP and VRBPAC practices resulted in the following recommendations to the Department of Health and Human Services (DHHS) by the Committee on Government Reform:
"1. Individuals who serve on advisory committees involving vaccines should have no financial ties to vaccine manufacturers.

2. Public participation on ACIP and VRBAC needs to be increased substantially.

3. Conflict of Interest waivers should be used more stringently.

4. A balance of policy perspectives should be incorporated into consideration of appointments of committee members.

5. Any level of stock ownership in vaccine manufacturers should not be allowed by committee members.

6. Department personnel need to insure that all documentation is fully and adequately completed.

7. Full explanation of participation as expert witnesses in legal cases needs to be a part of financial disclosures.

8. Individuals who have patents for vaccines for the same disease under discussion should not be allowed to participate in the discussion or vote of ACIP or VRBAC.

9. Individuals who are developing vaccines for the same disease under discussion should be not be allowed to participate in the discussion or vote of ACIP and VRBAC.

10. Working groups should be replaced by fully constituted Subcommittees on both the VRBAC and ACIP.

11. Individuals should not be allowed to participate on two DHHS advisory committees at the same time.

12. Individuals should not serve excessively long terms on a committee.

13. The FDA should reconsider its policy on using temporary voting members.

14. ACIP should not consider making a recommendation on a vaccine until it has been licensed by the FDA.

15. CDC should follow the same policy in identifying affected companies for vaccine discussions as the FDA does and exclude participation of any individual who has a conflict.

16. Organizations who send liaison members to participate in council meetings, should offer full disclosure of ties to the pharmaceutical industry.

17. The Department should review its policies and practices regarding conflicts of interest, participation on advisory committees, and terms of service, public participation, and balance of views and expertise."
RotaTeq Vaccine Clinical Trial Data
Wyeth-Lederle was not the only pharmaceutical company working on a rotavirus in the 1990s. Both Merck and GlaxoSmithKline were actively in development of a vaccine and on February 3, 2006, the FDA approved Merck's RotaTeq live oral rotavirus vaccine for use in infants six to 32 weeks for the prevention of rotavirus gastroenteritis caused by serotypes G1, G2, G3, and G4. Data submitted to the FDA by Merck indicated that the vaccine also induced antibodies against a selection of rotavirus serotypes that contained P1.
Two pre-licensing clinical trials examined the vaccine's efficacy against rotavirus gastroenteritis. One study reported an overall vaccine efficacy of 74 percent through the first year after vaccination. The second study examined the vaccine's efficacy against naturally occurring rotavirus gastroenteritis caused by the serotypes contained in the vaccine. In this study, Merck reported the vaccine to have an efficacy of 72.5 percent while the FDA reported an efficacy of 71 percent.
While RotaTeq was tested against a placebo in pre-licensing clinical trials, both groups received all routinely recommended vaccines at the same time. These vaccines included COMVAX (Hepatitis B and HIB), INFANRIX (DTaP), IPOL (inactivated polio) and PREVNAR (pneumococcal). According to the clinical data provided by Merck to the FDA, the incidence of diarrhea, vomiting, otitis media (ear infection), nasopharyngitis, and bronchospasm were statistically higher among infants in the RotaTeq group versus those in the placebo control group.
Merck also reported that no increased risk of intussusception was seen between day 42 and day 60 in the RotaTeq group compared to the placebo group and no clustering of cases occurred within a 7- day or 14- day period post vaccination. Six cases of intussusception occurred in the RotaTeq group compared to five cases in the placebo control group. Other serious adverse event reported in pre-licensing clinical trials included seizures, urinary tract infections, gastroenteritis, bronchiolitis, pneumonia, and pyrexia.
Fifty-two deaths (25 in the RotaTeq group versus 27 in the control group) occurred among the approximately 70,000 infants who participated in the phase 3 clinical trials. Sudden Infant Death Syndrome (SIDS) was the most common cause of death. Other causes included meningitis, bronchopneumonia, pyelonephritis, motor vehicle accidents, injuries and one death from intussusception. The intussusception death occurred 99 days post RotaTeq vaccination.
Vaccine virus shedding and transmission was also studied prior to the vaccine's licensure and it was reported to occur in nine percent of cases. Nearly all cases occurred after the first vaccine dose and the longest time point at which shedding occurred following vaccination was at 15 days. Horizontal transmission, however, was not evaluated by Merck during pre-licensing clinical trials.
RotaTeq Approved for Infants
The CDC's ACIP, which had begun discussions on RotaTeq in 2005, voted in February 2006 for all infants to receive 3 vaccine doses at 2, 4, and 6 months of age. The vaccine, however, was not recommended if the first dose were to be administered after 12 weeks of age and should not be given to any infant older than 32 weeks.
Contraindications to RotaTeq administration included a severe hypersensitivity to any ingredient found in the vaccine or a previous serious allergic reaction. ACIP also noted that the vaccine had not been tested in infants with altered immune systems and issued a precaution to practitioners who might be considering the use of the vaccine in this population. Additionally, the vaccine was not recommended for use when an infant was experiencing acute, moderate to severe gastroenteritis until symptoms had improved; however, the vaccine was still recommended for infants with mild gastroenteritis symptoms even though no testing had been done on the use of the vaccine in infants experiencing acute gastroenteritis.
ROTARIX Vaccine Approved for Infants
On April 3, 2008, the FDA approved ROTARIX, a second live oral rotavirus vaccine for use in infants six through 24 weeks of age. Manufactured by GlaxoSmithKline, this vaccine was approved to be administered at as a 2-dose series for the prevention of rotavirus gastroenteritis cause by serotypes G1, G3, G4, and G9.
Pre-licensing clinical trials of ROTARIX involved approximately 63,000 infants. In these trials, ROTARIX was tested against a placebo; however, both the ROTARIX group as well as the placebo group also received all additionally recommended age appropriate vaccines (pertussis, diphtheria, tetanus, hepatitis B, Haemophilus influenzae type b (Hib), pneumococcal conjugate, and poliovirus) in nearly all studies.
No increased risk of intussusception was noted in the pre-licensing clinical trials; however, other serious adverse events including deaths were reported. Among all studies, 118 deaths were reported, with a statistically significant increase in the number of pneumonia-related deaths reported among infants who received ROTARIX in comparison to those who received the placebo. Additionally, higher rates of convulsions and pneumonia as well as irritability, flatulence, and bronchitis were seen among ROTARIX vaccine recipients.
In June 2008, ACIP voted to recommend the use of ROTARIX as a second option for the prevention of rotavirus gastroenteritis but no preference was given to either rotavirus vaccine. ACIP also stated that the first dose of rotavirus vaccine needed to be administered between six weeks and 14 weeks and 6 days of age and that the vaccine series must be completed prior to 8 months of age.
ROTARIX Contraindications
Contraindications to receiving rotavirus vaccines included a history of severe allergic reaction to a previous vaccine dose or to any component of the vaccine. ROTARIX was not recommended for infants with a severe latex allergy due to the presence of latex in the vaccine's oral applicator. Infants with a latex allergy could receive RotaTeq as the applicator for this vaccine did not contain latex.
Precautions to vaccination included infants who were immunocompromised or potentially immunocompromised, infants who were acutely ill with moderate to severe gastroenteritis or those moderate to severely ill, infants with pre-existing chronic gastrointestinal disorders and those with a history of intussusception.
Infants with bladder exstrophy or spina bifida, a population known to be at a higher risk for latex allergies, were recommended to receive RotaTeq in lieu of ROTARIX; however, if RotaTeq was not available, ACIP stated that vaccination with ROTARIX was still preferential over no vaccine.
Limited data on the safety or effectiveness of rotavirus vaccines on premature infants was available when ACIP published its updated guidelines but committee members considered the benefits to rotavirus vaccination to outweigh the risks and recommended routine vaccination for this population. Infants in the NICU, however, were not recommended to receive the vaccine due to the risk of vaccine-strain shedding that could potentially harm an acutely ill infant in the same unit.
ACIP recommended that all rotavirus vaccine doses administered be of the same product but stated that vaccination should not be deferred because the previously administered vaccine type was not known.
ROTARIX Vaccine Contaminated with Porcine Circovirus
On March 22, 2010, the FDA announced that an independent U.S. academic research team had found DNA from porcine circovirus 1 (PCV1) in the ROTARIX vaccine. The FDA recommended that healthcare practitioners suspend use of ROTARIX vaccine in the U.S. while the agency learned more about PCV1. They did, however, report that this finding posed no safety concerns and stated that PCV1 was not known to cause illness in humans or other animals.
On May 7, 2010, the FDA announced that RotaTeq vaccine was contaminated with DNA from two porcine circoviruses: PCV1 and PCV2. Although PCV1 had not been associated with clinical disease in pigs, PCV2 was known to be a lethal pig virus that caused immune suppression and a serious wasting disease in baby pigs that damages lungs, kidneys, the reproductive system, brain and ultimately causes death. The FDA recommended temporary suspension of the use of ROTARIX vaccine on March 22, 2010 after DNA from PCV1 was identified in ROTARIX but did not call for suspension of the use of RotaTeq vaccine after PCV2 was found in RotaTeq.
However, one week later, on May 14, 2010, the FDA announced that they had reviewed the scientific evidence and determined that the vaccine was safe and use of the product should continue. PCV1 remains a contaminant of the ROTARIX vaccine and PCV1 and PCV2 continue to contaminate RotaTeq vaccines.
On June 11, 2010, the CDC issued revised recommendations and added severe combined immunodeficiency (SCID) as a contraindication to receiving rotavirus vaccines. SCID is a group of rare disorders caused by mutations in various genes involved in the function and development of T- and B- lymphocytes. The addition of this contraindication occurred following reports of vaccine-acquired rotavirus infections and prolonged vaccine-strain shedding within this specific population.
The CDC updated its rotavirus vaccine recommendations once more in October 2011 and added a prior history of intussusception as a contraindication of rotavirus vaccines. In this updated recommendation, the CDC reported that infants with a history of intussusception are at a higher risk for a repeated case; however, no data was available to determine the risk of a subsequent case of intussusception after rotavirus vaccination in infants with a prior history of intussusception. Intussusception between day one and day 21 following the first and second dose of rotavirus vaccine was recognized as a vaccine injury and added to the National Vaccine Injury Compensation Program's Vaccine Injury Table on July 23, 2015.
In 2018, the CDC reported that only 73.2 (71.6–74.7) percent of children between 19 and 35 months of age had received the rotavirus vaccine series in 2017. Currently only Idaho, Louisiana, North Dakota, Ohio, Pennsylvania, Rhode Island, West Virginia, and Wyoming require rotavirus vaccination for childcare enrollment; however, exemptions may be available. More information on vaccine exemptions for school and childcare can be found on our NVIC State Law & Vaccine Requirements Page.
IMPORTANT NOTE: NVIC encourages you to become fully informed about rotavirus and rotavirus vaccines by reading all sections in the Table of Contents, which contain many links and resources such as the manufacturer product information inserts, and to speak with one or more trusted health care professionals before making a vaccination decision for yourself or your child. This information is for educational purposes only and is not intended as medical advice.
---
Opens in new tab, window
Opens an external site
Opens an external site in new tab, window