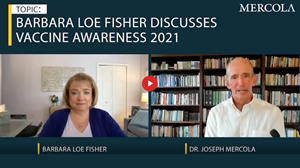 Video Interview with Dr. Joe Mercola and Barbara Loe Fisher
Click to access the interview transcript, video interview, and podcast for the Sept. 26 featured content.
NVIC's president and Dr. Mercola discuss COVID, the vaccine, censorship and the attack on doctors and the vaccine safety and informed consent advocates publishing accurate information about the SARS-CoV-2 virus and COVID-19 vaccine. This in-depth interview examines the coercive measures and authoritarian approach undertaken by government and doctors to vaccinate all Americans, which poses a very real threat to civil liberties and human rights. The conversation includes a look at the role that government, media, big tech companies, and social media platforms play in stifling dissent by censoring the expression opposing viewpoints.