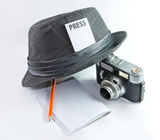 Welcome to our press room! We hope that you find the background information about NVIC helpful, as well as the recent news posted here and links to our news archives.

For requests related to Barbara Loe Fisher speaking at a conference, please submit the request in writing to [email protected]. For urgent requests for interviews from newspapers or broadcast media, please call 703-938-0342. For all other interview requests, please submit them in writing to [email protected].

For requests for educational presentations by NVIC staff at conferences, webinars and other similar venues, please sent the request along with number of participants and subject matter to be covered to [email protected], and staff will follow up with you.
BRIEF BACKGROUND: The National Vaccine Information Center (NVIC) is a national charitable, non-profit organization founded in 1982 dedicated to reducing vaccine injury and deaths through public education. We support the availability of all preventive health care options, including vaccines, and the right of consumers to make educated, voluntary health care choices. NVIC also promotes and funds research to evaluate vaccine safety and effectiveness, as well as to identify factors which place individuals at high risk for suffering vaccine reactions; and monitors vaccine research, development, regulation, policy-making and legislation. NVIC has long been recognized as the leading consumer voice on vaccine safety concerns. To learn more about our mission and accomplishments, please visit our About Us page.
Selected Interviews
Click News & Media Coverage Archives to read additional media reports from earlier in the year.
NVIC Recent Press Releases
Click Press Release Archives to read past press releases.
CDC Officials Make False Statements About Possible COVID-19 Vaccine Side Effects. Barbara Loe Fisher, co-founder and president of the National Vaccine Information Center, noted that there have been more than 24,000 reports of tinnitus submitted to VAERS after COVID-19 vaccination. "There is mounting evidence in the medical literature that tinnitus involves inflammation in the brain," Fisher said, pointing to several studies. She added, "CDC officials should be taking the tinnitus signal seriously and actively pursuing every available avenue of research to find out what is going on rather than doing everything they can to quickly dismiss the reported risk for developing chronic ringing in the ears after COVID shots." Epoch Times Apr 26, 2023.


Trailblazers of Medical Freedom With Barbara Loe Fisher and Dr. Andrew Wakefield. Good Morning CHD video interview of Barbara Loe Fisher and Andrew Wakefield by host Stephanie Locricchio. In this conversation, Fisher and Wakefield talk about their shared experiences in the late 20th century trying to raise public awareness about vaccine risks, including the challenges they have faced and the strategies they have used to do that into the 21st century. From the importance of seeking and sharing information to the need for action, Fisher and Wakefield offer invaluable insights into the ongoing fight for health freedom, with Fisher stating, "It's time for people to stand up and say no...you are not going to take away my informed consent rights." Good Morning CHD Apr. 17, 2023.


Physician Assistant Fired for Reporting COVID-19 Vaccine Adverse Events to VAERS. In this wide ranging interview that provided background on VAERS and the National Childhood Vaccine Injury Compensation Act of 1986, NVIC's Co-founder and President, Barbara Loe Fisher stated, "At this point, those of us who worked on the 1986 Act with Congress know that our trust was betrayed by politicians who made backroom deals with drug companies, medical trade organizations, and federal agencies to gut the Act after it was passed and give the pharmaceutical industry what it wanted in 1986 and could not get: a complete liability shield for vaccine injuries and deaths..." Epoch Times Mar. 19, 2023.


COVID Shots Added to CDC's Recommended Vaccine Schedule. Crosstalk podcast interview of Barbara Loe Fisher by host Jim Schneider. Fisher stated of COVID-19 mRNA vaccines, "We know now that this is the most reactive vaccine that has ever been put on the U.S. market." VCY America Mar. 3, 2023.


CDC Spreads False Information About COVID-19 Vaccine Safety. Barbara Loe Fisher, president and co-founder of the National Vaccine Information Center, told The Epoch Times via email "Those of us who worked with Congress to secure vaccine safety informing, recording, and reporting provisions in the 1986 National Childhood Vaccine Injury Act—of which VAERS was one—are deeply concerned that federal health officials are deliberately ignoring signals in VAERS and that mRNA COVID shots are causing ischemic strokes and other potentially fatal complications," Epoch Times Feb 27, 2023.


Deadline Passes for Pfizer to Submit Results of Post-Vaccination Heart. Barbara Loe Fisher, president and co-founder of the National Vaccine Information Center, told The Epoch Times via email "Why are FDA officials dragging their feet on making Pfizer's prospective study data on subclinical myocarditis available to the public when evidence has been published in the medical literature that Pfizer's pre-EUA clinical trials revealed 'a 36 percent higher risk of serious adverse events in vaccinated participants in comparison to placebo recipients," Epoch Times Jan 11, 2023.


FDA Waited Months to Alert Public to Possible COVID-19 Vaccine Safety Issues, Researchers Disclose. Barbara Loe Fisher, president and co-founder of the National Vaccine Information Center, told The Epoch Times via email "From day one, people over age 65 have been targeted for COVID shots and, to date, 95 percent of them in the U.S. have rolled up their sleeves and gotten vaccinated. The FDA is legally responsible for ensuring that vaccine products released for public use are safe. Why did FDA officials wait for five months to come clean with the public about a suspected increased risk of blood clots that could lead to death for seniors who get the Pfizer/BioNTech COVID vaccine and then wait 10 more months to submit a study for publication?" Epoch Times Dec. 19, 2022.


CDC Advisers Recommend Adding COVID-19 Vaccines to Childhood Immunization Schedule. Barbara Loe Fisher, president and co-founder of the National Vaccine Information Center, told The Epoch Times via email "I suppose we should not be surprised that the ACIP has voted to add it to the CDC's recommended childhood vaccine schedule, even though it has not been fully licensed by FDA for use in children. The past three years has [sic] taught us that federal health officials have politicized the COVID vaccine development, licensing, and policymaking process and rubber-stamped the questionable science provided by pharmaceutical companies," Epoch Times Oct. 20, 2022.


NVIC Statement: The National Vaccine Information Center (NVIC) Statement on Facebook De-Platforming of NVIC: After maintaining a Facebook page since 2008, on Mar. 2, 2021, the 39-year old National Vaccine Information Center (NVIC) was de-platformed by Facebook. Commenting on the removal of NVIC's page from Facebook, NVIC co-founder and president Barbara Loe Fisher said, "We are not surprised that Mark Zuckerberg views the truthful information that NVIC publishes about vaccine science, policy and law as a threat to perpetuating false narratives about vaccine safety created by the pharmaceutical industry and its business partners." She added, "NVIC encourages everyone to leave social media networks eroding civil liberties, which include freedom of thought, speech and conscience, and join those that protect freedom of speech." Mar. 2, 2021.


NVIC Press Release: The National Vaccine Information Center (NVIC) Opens Vaccine Conference for Free Viewing: In December 2020 a non-profit limited company based in Great Britain that calls itself the Center for Countering Digital Hate (CCDH) published a report entitled The Anti-Vaxx Playbook containing false and misleading information about the Fifth International Public Conference on Vaccination held online October 2020. The promotion of the CCDH report resulted in the spreading of fake news and misinformation by mainline media outlets in Great Britain and the U.S. about the 39-year old U.S. non-profit educational charity the National Vaccine Information Center. NVIC's pay-for-view digital conference was transparently open to the public and featured presentations by 51 speakers from the U.S. and other countries discussing vaccine science, public health policy and law, informed consent and civil liberties. Dedicated to "Protecting Health and Autonomy in the 21st Century," the conference was made available on Feb. 2, 2021 for free viewing online. Feb. 2, 2021.