Make A Difference
NVIC is 100% funded by donations.

California State Vaccine Requirements
Updated August 03, 2023
---
---

TAKE ACTION TODAY!
- Multiple bills have been introduced into state legislatures that could affect vaccine exemptions.
Visit www.NVICadvocacy.org to learn about what is happening in your state and what you can do to help. Thank you for standing up for freedom!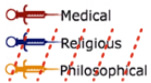 Quick Facts and Resources for California Residents
Quick Fact: On June 30, 2015 Governor Brown signed SB 277 into law. New personal and religious belief exemptions will not be allowed in California daycare, preschool, and K-12 schools, effective July 1, 2016. However, if a parent files a letter or affidavit stating beliefs opposed to immunization prior to Jan. 1, 2016 that exemption will apply until the next grade span checkpoint. For more information, please read the statute here, and register and log into NVIC's Advocacy Portal for updates. To understand options available to Californians please read NVIC's Newsletter Article - The Fallout from California SB277: What Happens Next?

In 2011 AB-499 Minors: medical care: consent was passed which allows minors 12 years old and older to consent to vaccines for sexually transmitted diseases without the knowledge or consent of their parents. This includes HPV vaccine.
Other Resources: Many vaccination and exemption information links are date specific. If the links below have expired, click on the state's department of health, or immunization program link provided below, as they are likely to provide links to updated information. The General Information link leads to the overview page provided by the state at the time of this webpage's update and may also be helpful. Please email NVIC with broken link information.
The information contained on NVIC's web pages is for educational purposes only and is not intended to be medical or legal advice. Those seeking medical or legal advice should obtain the services of a competent attorney, physician or qualified health care professional. Although NVIC continually updates our website, state laws and rules change frequently and consumers are ultimately responsible for verifying their state's vaccination and exemption laws and requirements.
---
Opens in new tab, window
Opens an external site
Opens an external site in new tab, window