Make A Difference
NVIC is 100% funded by donations.

Maine State Vaccine Requirements
Updated March 07, 2022
---
---

TAKE ACTION TODAY!
- Multiple bills have been introduced into state legislatures that could affect vaccine exemptions.
Visit www.NVICadvocacy.org to learn about what is happening in your state and what you can do to help. Thank you for standing up for freedom!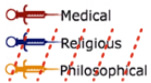 Quick Facts and Resources for Maine Residents
Quick Fact: NVIC Note: Loss of religious and philosophical exemptions effective Sept. 1, 2021. For religious or philosophical exemption written statements by parents, students or healthcare workers stating "a sincere religious belief that is contrary to the immunization requirement or an opposition to the immunization for philosophical reasons." are accepted. Medical exemptions are also allowed. More on this change in the law can be found here.

Other Resources: Many vaccination and exemption information links are date specific. If the links below have expired, click on the state's department of health, or immunization program link provided below, as they are likely to provide links to updated information. The General Information link leads to the overview page provided by the state at the time of this webpage's update and may also be helpful. Please email NVIC with broken link information.​​​​​​
The information contained on NVIC's web pages is for educational purposes only and is not intended to be medical or legal advice. Those seeking medical or legal advice should obtain the services of a competent attorney, physician or qualified health care professional. Although NVIC continually updates our website, state laws and rules change frequently and consumers are ultimately responsible for verifying their state's vaccination and exemption laws and requirements.
---
Opens in new tab, window
Opens an external site
Opens an external site in new tab, window