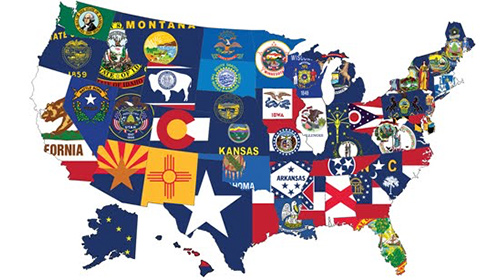 Legislators in Idaho, Texas and North Dakota have introduced bills either expanding electronic vaccine tracking registries or removing informed consent protections from them in violation of medical privacy. NVIC is actively monitoring vaccine tracking bills and electronically notifying NVIC Advocacy Portal users so they can be put in immediate contact with their own state legislators and voice opposition to the tagging and tracking citizen's vaccination status by government officials without advance voluntary consent.
NVIC has a 15-year public record of opposing forced enrollment of children and adults in electronic medical records and vaccine tracking systems operated by state and federal agencies that track everyone's vaccination status without informed consent, which is a violation of medical privacy.
[1]
[2]
[3]
In the 1990s, NVIC supported the successful efforts of Parents Requesting Open Vaccine Education (PROVE) led by PROVE co-founder and president Dawn Richardson to secure voluntary "opt-in" requirements for the electronic vaccine tracking system operated by the Texas state health department.
[4]
Dawn is NVIC's national Director of Advocacy and in 2010 created the online vaccine choice empowerment tool, the NVIC Advocacy Portal.
[5]
Government Vaccine Mandates & Tracking: Linked in History
Electronic vaccine tracking systems, which enable U.S. federal and state public health officials to tag children with ID numbers and track their vaccination status have been around since the early 1990s. These 21st century U.S. vaccine tracking systems have their historical roots in government-instituted vaccine laws dating back more than a century.
Vaccine mandates in the United States have been state-based because public health was not defined in the U.S. Constitution as a federal responsibility. The U.S. Supreme Court in 1905 affirmed the legal right of state legislatures to require citizens to be vaccinated for smallpox,
[6]
which set the stage for an expansion of state-based vaccine laws based on recommendations by federal public health officials.
1990s: Using Social Security Numbers to Tag & Track
The two decade federal health agency initiative to create a national medical records database by tagging citizens with ID numbers at birth (including utilizing the social security number) and electronically monitoring the vaccination status of all children, have been ongoing. Citing concerns over the mobilization of society and loss of personal medical records, the Centers for Disease Control and Prevention (CDC) argues that, by the age of two, over 20% of the children in the United States have been seen by more than one health care provider. CDC officials say that a national tracking system could "help providers and families by consolidating immunization information into one reliable source."
[7]
Soon after taking office as Secretary of Health and Human Services under President Bill Clinton in 1993, Donna Shalala moved to initiate the President's "Comprehensive Childhood Immunization Initiative," designed to make vaccines available to all children in the United States. Within that plan was a proposal for the planning and implementation of a federally operated electronic vaccine tracking database.
[8]
This plan was met with strong public opposition and, following efforts by a coalition of medical privacy advocates, including NVIC, the bill was modified to eliminate the language authorizing creation of a national, federally operated vaccine tracking system
[9]
State Vaccine Tracking Registries Emerge
A few months later, however, a bill was passed by Congress that included budgeting for the establishment of state-operated vaccine registry systems to monitor the vaccination status of all children.
[10]

,

[11]
This federal law was followed by the introduction of the federal National Vaccine Plan to vaccinate every child in the United States and endorsement of the Children's Vaccine Initiative (CVI), which extended that goal to include vaccinating all the children of the world.9
Widespread Use of State Vaccination Registries
Still under state jurisdiction, by 2010, 48,048 vaccination provider sites were participating in some form of vaccine status monitoring through the Immunization Information System (IIS), tracking 18.8 million, or 82%, of all U.S. children under the age of 6 years.
[12]
These IISs were defined as "confidential, population-based, computerized databases that record all immunization doses administered by participating providers to persons residing within a given geopolitical area."
[13]
These state-based IISs also have the technological capability of integrating with a federally created and monitored Electronic Health Records (EHRs) system into which everyone accessing health care services in the U.S. is enrolled.
[14]
As early as 1995, the CDC's National Center for Immunization and Respiratory Diseases, working with the Immunization Grantee Working Group, and with input from the National Vaccine Advisory Committee (NVAC), public health representatives, and private health care providers, had agreed on a set of core electronic data set items for gathering vaccine status information on all children and adults, such as name, date of birth, race, gender, and mother's name and maiden name, and state/country of birth; optional items include social security number and address.
[15]
The Vaccine Tracking System, or "VTrckS"
A recent expansion of the IIS is the CDC's Vaccine Tracking System ("VTrckS"), which is one element of the agency's much larger Vaccine Management Plan (VACMAN). Originally launched at four pilot sites in Michigan, Colorado, Washington and Chicago in December of 2010, this federal grant program had grown to include 64 grantees as of August 2012. VACMAN is an integrated "tool for customizing, recording, transmitting, and managing vaccine data," with the VTrckS portion designed to allow health care providers to manage their vaccine orders online via a federal registry.
15
The Vaccine Tracking System (VTrckS) integrates the publicly-funded vaccine supply chain from purchasing and ordering to distribution of the vaccine. It allows healthcare providers to order vaccines directly. The system also evaluates vaccine orders against specific guidelines set by state, local and territorial health department grantees and CDC.
A CDC goal is to enable the electronic health records of state and local health departments to share data with IISs, and to integrate those systems with CDC's own (VTrckS) vaccine tracking system.
15 As stated on the CDC website, "by implementing an integrated system based on a modern technology platform, CDC is laying a long-term foundation for effectively managing publicly-funded vaccine."
[16]
NVIC Defending Medical Privacy and Vaccine Choice
As the federal goverment moves to expand adult and child use of vaccines through achievement of Healthy People 2020 goals,
[17]
[18]
including forcing adults as well as children into electronic vaccine tracking systems, NVIC is working with citizens in every state to defend medical records privacy and voluntary vaccine choices. Register
here
to read more about the status of vaccine tracking bills in Texas, Idaho and North Dakota and bills threatening vaccine choices in other states and join the tens of thousands of Americans using the free online NVIC Advocacy Portal to stand up for medical privacy and informed consent rights.
Leave a comment
Your email address will not be published. Required fields are marked with an *
13 Responses to "Vaccine Tracking & Registry Bills Threaten Privacy"