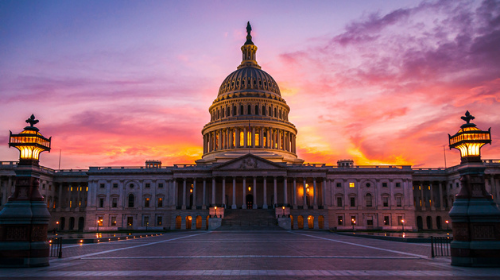 On Wednesday, June 27th, 2012 the California Senate Committee on Health held a public hearing on AB 2019. This bill, filed in February by pediatrician and Assembly Member Richard Pan, imposes the additional requirement that parents, who file a personal belief exemption to vaccination for their children to attend school, must get a signature from one of a limited set of doctors and medical care practitioners stating that the practitioner has provided the parent with "information regarding the benefits and risks of the immunization and the health risks of the communicable diseases … to the person and to the community."

If this bill passes and parents do not obtain a signature from a designated doctor or medical care practitioner on the personal belief vaccine exemption form, the child will be barred from attending school. Watch an NVIC public service message about this bill.
The National Vaccine Information Center Opposes AB 2109
NVIC has consistently opposed AB 2109 throughout this legislative session. Parents should not be required by the state to pay a doctor for a signature and information on vaccines when most parents making selective vaccination choices have already researched the subject and made an educated decision. Here is NVIC's Statement of Opposition to AB 2109 submitted to the committee.
Based on the many reports NVIC has received of doctors throwing families out of their practices when a parent makes an informed decision to delay or decline a vaccine, we have serious concerns that this bill will eliminate the legal right for California parents to exercise the personal belief exemption when they can't find a doctor or medical care practitioner willing to make an office appointment or provide a signature on the exemption form after speaking with them. There is nothing in the bill that requires a doctor to schedule an appointment and sign the form.

Through the NVIC Advocacy Portal, I surveyed NVIC's California Advocacy Team Members and identified many families, who have already reported being thrown out of their doctor's office for exercising their legal right to exempt their children from mandatory vaccines. This compiled report of harassment and discrimination events was shared with both the Assembly and Senate Health Committees.
April Assembly Health Committee Hearing Contentious
After Dr. Pan introduced the bill in late February, it quickly moved through the Assembly with an amendment on April 23 and passed the Assembly with a 44-19 vote on May 10 before heading to the Senate. On April 27, the Assembly Health Committee held a hearing that saw many families, including parents with vaccine injured children, as well as doctors of chiropractic, nurses and other health care professionals attend to testify in opposition to AB2109. Speaking in support of the bill were state public health officials, pediatricians, and medical trade associations and special interest groups associated with pharmaceutical companies.
Pediatrician Bob Sears, M.D. and NVIC California State Advocacy Co-Director, Dawn Winkler, were allowed to give longer testimony but it was restricted for most of the other families and health professionals, who had traveled to Sacramento to make public comment. Watch the public hearing in the Assembly Health Committee on April 27.
Testimony Limited and Bill Misrepresented at Senate Hearing
NVIC's California State Advocacy Co-Directors, Dawn Winkler and Michelle Gutierrez, along with dozens of others, attended to give prepared testimony in opposition to the bill. Senate Committee Chair Ed Hernandez had personally assured Dawn Winkler in prior communication that testimony would not be limited like it had been in the Assembly. However, Dawn reported that families, who had waited for several hours for the bill to be called for discussion, were not allowed to give their full testimony and just two speakers from each side were allowed to give prepared "opposition" and "support" testimony.
When describing his bill to the committee, Assemblyman Richard Pan claimed that AB 2109 ensures that parents have accurate information when considering exempting their children from vaccination before school entry. This is not true.
First of all, a parent intending to file a personal belief exemption, who is being forced by this proposed law to make and pay for an appointment with a designated doctor or medical care provider, has already decided to exempt their child or they wouldn't be making the appointment to get the exemption form signed. This bill is based on the flawed and incorrect assumption that, if a parent has chosen to exempt their child from one or more vaccines, they have made the wrong decision and need to be further "educated."
Secondly, the only thing that AB 2109 actually ensures is that parents exercising a personal belief exemption will be required to have a discussion about vaccination with and obtain a signature from a doctor or medical care provider, who is most likely biased (based on the list of approved signatories) in favor of "no exceptions" one-size-fits-all vaccination policies. This requirement does nothing to ensure a parent requesting an appointment for a personal belief exemption will get an appointment and, if they do, that truly balanced and accurate information will be given or the practitioner will actually sign the form.
Considering The Centers For Disease Control does not acknowledge many vaccine contraindications and the American Academy of Pediatrics asserts that every child needs to be getting 49 doses of 14 vaccines before age 6, it is very unlikely parents choosing to delay or decline one or more vaccines will get the respect or assistance they deserve in securing their personal belief exemption from designated doctors or medical care practitioners.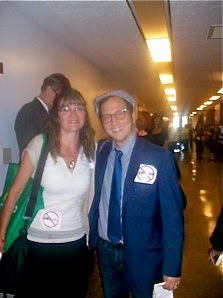 NVIC California State Advocacy
Co-Director Dawn Winkler with Comedian/Actor Rob Schneider outside of the Senate Committee on Health Hearing on AB 2109
on June 27th, 2012
Powerful Testimony Given by a Doctor, NVIC Rep and Popular Actor
Giving prepared testimony against the bill were alternative health pioneer Dr. Julian Whitaker, NVIC California State Co-Director Dawn Winkler, and comedian/actor Rob Schneider who, when he was informed he would not be given the time to testify, appropriately asserted that he was a California citizen, who had driven many hours from Los Angeles to be there and deserved a chance to speak.

Dawn Winkler was masterful in spontaneously compressing the testimony of nine people, who had planned to cover several points and correct misinformation presented by doctors in support of the bill. She provided three pieces of printed information delivered to each Senator. The first, was an NVIC pamphlet that shows the 49 doses of 14 vaccines children receive by age 14; the second was a permanent termination letter from a Roseville based pediatric practice that a parent received for opting out of vaccination; the third was information compiled by a mother, who was there in person to testify but was not given the opportunity to present information documenting the refusal of many doctors to see parents of unvaccinated children.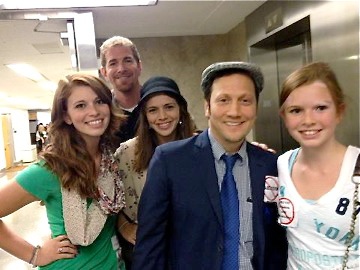 Father and Chiropractor Dr. Eric McKillican from Life College with his three daughters and actor Rob Schneider attend the Senate Committee on Health Hearing to express their opposition to AB 2109
Her information showed that she called 105 doctors in the insurance directory for her area. Of those 105, 83 said they would not accept an unvaccinated patient into their practice; 12 wouldn't call her back to discuss their policy, and only 10 accepted unvaccinated patients for an appointment but that was not a guarantee of a signature.
At the end of her testimony, Dawn suggested an amendment for consideration by the Committee to remove the requirement for a parent to get a signature from a designated doctor or medical care practitioner. Instead, the bill would direct the state health department to compile whatever educational materials Dr. Pan thinks parents are lacking and parents seeking a personal belief exemption would be required to read and sign under penalty of perjury that they have received and read the information. The Senate Health Committee members, who were present, did not express interest in the amendment offering this common sense alternative.
Many Parents Were Not Given Time to Testify But Good Questions Were Asked
NVIC California State Advocacy Co-Director, Michelle Gutierrez, was not given time to speak. All the other families who had traveled, taken time off from work and their families, and waited over four hours to give testimony against the bill were reduced to only stating their name, affiliation and position on the bill. Even a student council president of Life College-West representing students, who didn't want this bill imposed on them, was not given time to speak.

In spite of the limited testimonies, some good questions were asked by committee members. Senator Michael Rubio expressed concern over the number of vaccines that kids receive and shared that he has spaced vaccinations out for his own children. He echoed NVIC's stated concern over the lack of access to providers willing to sign the exemption forms. On the other hand, Senator Lois Wolk, who is also the bill's co-author, expressed happiness at seeing so many mandatory vaccinations on the schedule.
There was some discussion about expanding the list of providers allowed to sign the forms to include school nurses but, because testimony was limited, families, whose children go to schools that don't have a school nurse, were not able to respond that this doesn't help them. With budget cuts, fewer schools are employing school nurses. When one legislator discussed the idea of adding pharmacists to the list of providers able to sign the form, Dr. Pan quickly tried to change the subject.
There were other committee members, who expressed concern over the lack of access to doctors or medical care providers to meet with families and sign the exemption form, and Committee Chair Hernandez reserved the right to call the bill back to committee if the access issues discussed are not addressed.
Dr. Pan Gets His Facts Wrong
Dr. Pan told the committee that the state of Washington had set up a hotline to take calls from families having trouble getting signatures on their personal belief vaccine exemption forms and that the Washington state hotline had only received six calls. He used this to try and dissuade committee members from listening to provider access problems expressed by Dawn Winkler.
After the Senate health committee hearing, I contacted the Washington State Health Department directly because NVIC volunteers could not find such a hotline listed on the Washington State Health Department Immunization Division webpage or on the vaccine exemption form itself. In an email note back to me, the health department contact stated "I'm not aware of an 1-800 number to call in to report providers not willing to sign an exemption. As far as I know there is no number to do this." Even if this hotline number does exist somewhere, the fact that nobody can find it - including the health department – calls into question how six calls could have been made to a telephone number nobody can find. Without enough legislators in attendance during testimony to take a full vote, the committee later in the hearing returned a vote of 7-1 in favor of the bill.
Hearing and News Coverage Available Online
The hearing was supposed to be videotaped and posted online, but a last minute hearing room change prevented that from occurring. One mother tried to video record the hearing herself and was stopped by the Sergeant at Arms in the hearing room. A local television news team was also prohibited from filming in the hearing room.
Fortunately, the completely packed hearing room did have an audio broadcast and NVIC staff recorded the feed on a computer and posted it here so people could listen for themselves to what was really said. Channel 10 TV News did a nice job covering the hearing in their evening news broadcast, and video of that broadcast is posted here. They also posted their longer interview with Rob Schneider done outside of the hearing room, in which he makes an informed and passionate statement about why parents should have the legal right to make vaccination decisions for their children without getting approval from a doctor or designated medical practitioner. The Huffington Post covered Rob Schneider's opposition to AB 2109, and the comment boards there are really drawing out some interesting conversations.
Next Steps As AB 2109 Moves to Appropriations Committee
NVIC is encouraging people in California to register for the NVIC Advocacy Portal so they can receive email action alerts and access online updates in our efforts to educate the public about the negative consequences that AB 2109 would have on vaccine exemptions in California as the bill continues to move through the legislature.
NVIC is also encouraging everyone in California to contact their state senator to express their concerns and ask them to oppose AB 2109. Please access the California State Page of the NVIC Advocacy Portal at http://NVICAdvocacy.org for more information.
AB2109 was referred to the Senate Committee on Appropriations and will be heard there next.

NVAC: Parents Question Why Vaccinated Kids Are Getting Pertussis
By Theresa Wrangham
In their Washington, D.C. meeting of June 5-6, 2012[1], the National Vaccine Advisory Committee's (NVAC) primary discussion centered on two themes;
The Washington state pertussis outbreak and
Strategies for encouraging higher Tdap vaccine uptake among pregnant women and cocooning those in contact with infants.
Background on Tdap and Pregnant Women – Where's the Science?
Whooping cough (pertussis) is a respiratory disease. The toxins present in Bordetella pertussis bacteria create increased amounts of thick, sticky mucus that can clog the airways of tiny babies and children. According to the Centers for Disease Control (CDC), pertussis mortality is highest among infants.
In late 2011 the Advisory Committee on Immunization Practices (ACIP), the CDC's federal advisory committee, issued a recommendation
[2]
that pregnant women receive Tdap vaccine at 20 weeks gestation. They also recommended "cocooning" infants against pertussis - a strategy of vaccinating family members in contact with babies.
The ACIP's recommendation was not based on FDA clinical pre-licensure data, but was instead based on small studies and the absence of elevated vaccine reaction reports from three passive mechanisms; the federal Vaccine Adverse Event Reporting System (VAERS), and pregnancy registries run by Sanofi Pasteur and GlaxoSmithKline. It is important to note that the Food and Drug Administration (FDA) rates Tdap vaccine as a Category C drug,
[3]
meaning:
"Animal reproduction studies have shown an adverse effect on the fetus and there are no adequate and well-controlled studies in humans, but potential benefits may warrant use of the drug in pregnant women despite potential risks."
According to the manufacturer product inserts for Tdap (
Sanofi Pasteur - Adacel,
GlaxoSmithKline - Boostrix
) animal fertility studies have not been conducted, nor have human studies on the potential for fetal harm.
Many pregnant women are likely unaware that Tdap is licensed as a Category C drug, or that safety data is being gathered from passive mechanisms as the vaccine is used on them. Most pregnant women would assume that when their doctor recommends that they receive the Tdap vaccine that it has been proven safe.
Laura E. Riley, M.D., reporting on behalf of ACOG (American College of Obstetricians & Gynecologists), stated during the meeting that many ObGyns were not aware of VAERS and required more education on vaccination. It hardly seems likely then that ObGyns are aware of the registries put in place by vaccine manufacturers. As a result, vaccine injuries, reactions and deaths arising from the administration of Tdap in pregnant women is likely to be underreported, as is already acknowledged with VAERS[4] and vaccine reactions in general, all the while exposing mother and child to unknown risks associated with the vaccine.
Exactly where is the sound SCIENCE that demonstrates that the benefits of giving Tdap during pregnancy outweighs the risks?
Is Cocooning working?
Though cocooning is an active strategy in the U.S., the ACIP acknowledged in their recommendation that cocooning alone is insufficient in protecting infants from pertussis mortality.[5] Australia has gone even further and stated that as of June 30th, Australia will abandon funding of its cocooning strategy in place since 2009, because the clinical evidence shows that cocooning is not effective.[6]
Despite evidence that cocooning is ineffective, the NVAC questioned Dr. Riley about how to encourage ObGyns to be better vaccinators and promote cocooning. Dr. Riley responded that while new provider education materials to encourage Tdap were in place, as well as a new website, the challenge was that family members do not represent an ObGyn's patient load. She suggested that positioning vaccination as a good business opportunity might be persuasive.
Pertussis Vaccination in Washington Amid Outbreak
When the discussion turned to the pertussis outbreak in Washington, the Washington State Department of Health reported that the current pertussis outbreak was in week 20 and had 1,738 confirmed cases. Since 1996 there have been 9 pertussis deaths in Washington among children aged 12 months and under. The most current information on probable and confirmed cases of pertusiss can be found on the Washington Department of Health's website.
I contacted the Washington Department of Health in May to request information on rates of pertussis among vaccinated and unvaccinated populations and the response was that those numbers were not yet available. However, during the Washington state report, Dr. DeBolt noted that one of Washington's biggest challenges in this outbreak were parents questioning the pertussis vaccine's efficacy. According to Dr. DeBolt the state has been "flooded by phone calls" from parents, stating that their child was up-to-date on pertussis vaccination and had still contracted pertussis.
Dr. DeBolt also reported to the NVAC that Washington continues to have high vaccination rates and vaccine exemptions for school age children overall were only 4%. With regard to Tdap 6th grade vaccination requirements, exemptions were reported to be in decline – meaning higher vaccine uptake.
CDC Reports Higher Vaccine Uptake Hasn't Resulted in Lower Infant Mortality

The CDC report to the NVAC added that nationwide pertussis incidence has experienced an "age creep". Currently the highest incidence for pertussis is in infants, but adolescents now make up 44% of cases and with the most significant rise in incidence being in 7-10 year olds.

According to CDC's Dr. Clark, while uptake of the pertussis vaccine is high and has reduced pertussis in some populations, increased uptake has not translated into decreased mortality among infants.

Lack of Transparency Contributes to Public Distrust
No one is happy about any life lost to pertussis, whether or not the death occurs among the vaccinated or unvaccinated. But the lack of transparency in terms of what the public at large is told in relation to pertussis incidence, cocooning, and Tdap use in pregnancy is stunning. This is information that should be meaningfully put into the hands of every parent and individual by their doctors and health care professionals when vaccination is being considered. Not doing so clearly violates every American's right under federal law[7] to obtain risk/benefit information on vaccines.
This lack of transparency and the subsequent demonizing of parents and individuals who educate themselves and make informed decisions that in some instances lead to deciding against vaccination, or alternatively vaccinating, serves only to contribute to the ongoing decline of public trust in vaccines.
NVAC Meeting Schedule & NVIC Resources
NVAC meetings are open to the public. The public can listen to the meeting and/or make a public comment. The NVAC will meet again on September 11-12. We encourage our readers to listen, participate and be informed. Don't forget to Ask 8, if you are considering vaccination and forward this information to others. To receive updates and action alerts on state legislative efforts to expand or restrict vaccine choices, register for the free, user-friendly, online NVIC Advocacy Portal.


Calendar Notes
Speakers include Dr. Joe Mercola.
Chicago, IL - Oct 13, 2012:
NVIC's President and Co-Founder, Barbara Loe Fisher, will be a keynote speaker presenting:
Vaccines & Chronic Illness: Staying Well in the New Epidemic
at the
9th Annual Natural Living Conference
.
In the News
SC House upholds Haley veto on HPV Vaccine, San Francisco Chronicle, Jun 26, 2012
Vaccine fund pays for harm from shots, Arizona Daily Star, Jun 24, 2012
Guatemala Syphilis Study Lawsuit: Dismissal Despite United States Experiments On Natives In 1940s, Huffington Post, Jun 23, 2012
Merck & Co., Inc.: Lawsuit Claims Merck Overstated Mumps Vaccine Effectiveness, 4-Traders.com, Jun 22, 2012

References - Wrangham Article
---
Leave a comment
Your email address will not be published. Required fields are marked with an *
11 Responses to "CA Bill Restricting Personal Belief Vaccine Exemption Heats Up"