There are monuments in Washington, DC and other parts of the United States honoring the casualties of wars and those who have been victims of injustice and discrimination. For many years, I have wanted to create a monument honoring the casualties of mandatory vaccination laws that ignore the informed consent principle and violate the human right to autonomy. Now, there is a Truth and Freedom Monument standing in Florida that affirms the ethical principle of informed consent to medical risk taking and champions civil liberties.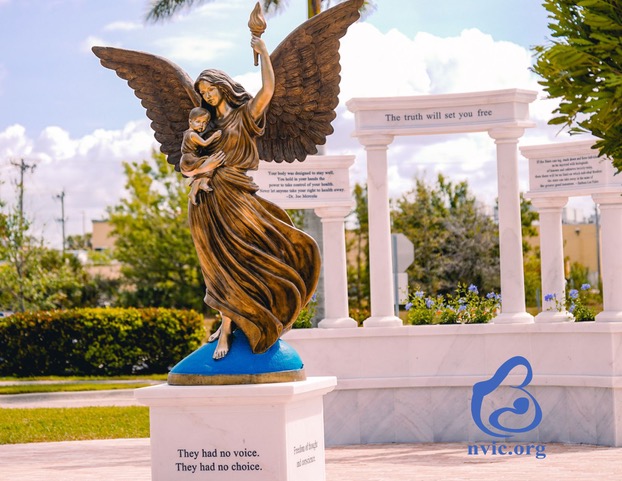 Sponsored by the charitable National Vaccine Information Center, the marble and bronze Truth and Freedom Monument is located on land in Cape Coral, Florida donated by holistic health pioneer Dr. Joseph Mercola. Surrounded by green grass, palm trees, flowers and water reservoirs, the focus of the monument is a seven-foot silvered bronze angel with a wingspread of nearly five feet standing on a blue globe reminding us of our duty to be guardians of our children and protect freedom for this and future generations.
Championing Health Freedom and Civil Liberties
The torch held up by the angel's left arm is the light of truth and the child held in the angel's right arm symbolizes the future of humanity. The guardian angel of freedom stands on a white marble pedestal engraved on four sides with these inscriptions:
Freedom of thought and conscience;

Freedom of speech and assembly;

They had no voice, they had no choice; and

No forced vaccination. Not in America.
Behind the angel is a semi-circle of three white marble arches engraved at the top with quotations. Above the center marble arch is an inscription from the Bible – The truth will set you free – a phrase also found in contemporary academic settings affirming freedom of thought and the power of knowledge.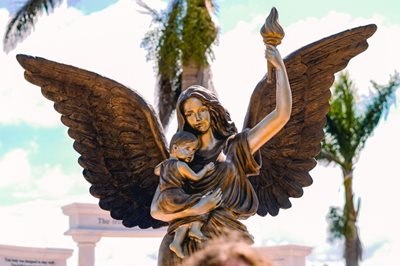 The first quote engraved at the top of one of the two flanking marble arches is a quote by Dr. Joe Mercola, who defends everyone's right to choose how to heal and stay healthy.
Your body was designed to stay well. You hold in your hands the power to take control of your health. Never let anyone take your right to health away. – Dr. Joe Mercola
The second quote inscribed at the top of the other arch is a warning I have been publicly making for many decades in defense of the human right to autonomy and protection of those civil liberties defining what it means to be free:
If the state can tag, track down and force individuals to be injected with biologicals of known and unknown toxicity today, then there will be no limit on which individual freedoms the state can take away in the name of the greater good tomorrow. – Barbara Loe Fisher
The Past is Prologue
Forty years ago, in 1983, I said, "The time has come for us to stand up and reassert our rights as parents to protect the mental and physical health of our children. Mothers, who are primarily responsible for taking children to the doctor and holding them while vaccinations are given, must stop being intimidated by physicians. We must educate ourselves about vaccines, start asking questions and demanding answers. We have to organize and educate our state and federal representatives about the dangers of current vaccine policy. Most of all, we can never again abdicate our responsibility to be fully informed about the nature of any biological that is injected into us or our children."1
Thirty years ago in the early 1990s, I began predicting the time would come when Americans would not just be blocked from getting a school education, but would be denied employment and medical care and prevented from entering a restaurant or being able to move about freely in public without showing proof of vaccination.
Before COVID-19 Pandemic Emergency: Gaslighting the "Vaccine Hesitant"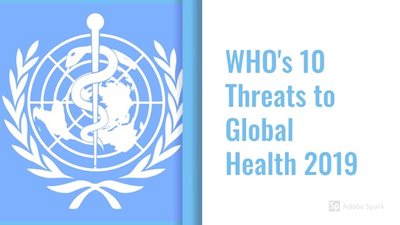 In January 2019, after the World Health Organization declared that "vaccine hesitancy" was among the top 10 threats to global health2 and the corporate owned media began to attack anyone who wanted to make voluntary decisions about vaccination, especially parents, I knew time was running out. Doctors were ordering parents to strictly adhere to the government's policy of giving children six dozen doses of vaccines between the day of birth and age 18 and if they refused, the families were denied medical care.3 4 5 Mothers bringing their children for well-baby checkups were being bullied and gaslighted by pediatricians for even asking a question about vaccine reactions – even when their child had already had a serious reaction to previous vaccinations.6
Vaccination has been the cornerstone of public health programs for two centuries. Mandatory vaccination campaigns giving more and more vaccines to infants and children and pregnant women over the past five decades should have made Americans the healthiest in the world. Instead, today, everybody knows somebody who was healthy, got vaccinated and was never healthy again.
The Chronic Disease and Disability Epidemic of Unresolved Inflammation
The chronic disease and disability epidemic plaguing our children and adults in the 21st century is an epidemic of chronic brain and immune system dysfunction that has grown bigger with each passing decade as the numbers of vaccinations given to children has tripled, repeatedly provoking inflammatory responses in the body throughout childhood.
One child in six is now learning disabled;7 one child in 10 is struggling with allergies8 or ADHD 9 10 or an anxiety disorder;11 one in 12 has asthma;12 one in 36 develops autism;13 one in 150 has epilepsy;14 15 one in 285 is diabetic,16 and millions more are sick with poor health conditions marked by unresolved inflammation in the body.17 On top of that, America has the worst infant mortality rate,18 the worst maternal mortality rate 19 and worst life expectancy of all developed nations.20 77 percent of highly vaccinated young Americans do not qualify for military service because of physical and mental health problems.
Use of Fear and Coercion to Force Use of mRNA COVID Vaccine
So, by 2019 when the World Health Organization singled out the "vaccine hesitant" for shaming and blaming, mandatory vaccination had, indeed, become the tip of the spear in the culture war gripping nations around the world. It had become an organizing tool used by globalists promoting authoritarian collectivist forms of government that devalue individual life and liberty in the name of the greater good.21
It was in 2019 that I began to design a monument to truth and freedom that would honor the casualties of mandatory vaccination laws and remind Americans of the urgent need to protect the human right to autonomy and civil liberties in the 21st century.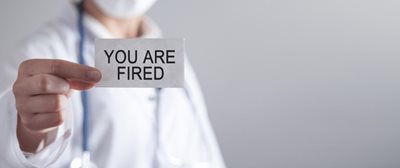 When the COVID-19 pandemic emergency was declared in 2020, as soon as the fast-tracked mRNA COVID vaccines were released under an Emergency Use Authorization, proponents of forced vaccination predictably used fear and coercion to try to compel individuals to get vaccinated or be ostracized from society. The vaccine was required by the federal government 22 23 and corporations as a condition of employment 24 and by universities as a condition of enrollment for education.25 Proof of vaccination was required by restaurants26 and gyms27 as a condition for eating food or exercising, and by hotels28 and movie theaters29 30 as part of the price of admission, and by churches31 and synagogues32 as a condition for entering a sanctuary to worship God. Nurses and doctors who refused the COVID shot were fired33 and so were decorated soldiers serving in the U.S. military,34 35 and so were professors at universities who dared to question the origins of the new coronavirus or criticize the safety and effectiveness of the COVID vaccine.36 37 38
My prediction had become reality and, along with draconian COVID vaccine mandates, came government dictated lockdowns that violated freedom of assembly.39 40 41 Widespread censorship endorsed by government officials violated freedom of speech in ways that Americans had never experienced before in our history.42 In the virtual and physical public square, individuals and organizations like this one were subjected to demonization and discrimination in an attempt to silence our voices.43 44 Freedom of thought and conscience was suppressed to stifle all dissent and block legitimate objections to authoritarian lockdowns and coercive vaccination policies.
It was a dystopian nightmare I had not thought I would live long enough to witness. Yet, it happened.
And it will happen again if we abandon a central principle upon which our nation was founded, which is that the individual has natural rights which limit the power of the state. It is a sacred principle that affirms the first human right – the right to autonomy, which includes protection of bodily integrity.45 46
No State Legislature Voted for COVID Vaccine Mandate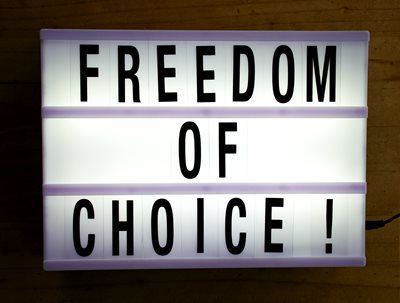 Parents of vaccine injured children began ringing the warning bell in 1982 about vaccine risks and failures and the danger posed by mandatory vaccination laws and we rang it louder and louder throughout every decade since, no matter who tried to silence us. And because we did that, not one state legislature in the United States of America voted to mandate the COVID vaccine or institute a vaccine passport.47 Working with families in the states since 2010 through the online NVIC Advocacy Portal to educate lawmakers about the importance of protecting vaccine informed consent rights is a big reason why no state legislature voted to force residents to show proof of COVID vaccination when entering public spaces.
Now the Truth and Freedom Monument stands at the Mercola Market in Cape Coral, Florida as a reminder of our duty to protect our children and defend those natural rights that guard the beating heart of liberty. If you visit the Truth and Freedom Monument, you can take your photo in front of the angel and post it with a comment on a virtual Truth and Freedom Monument on NVIC's website at NVIC.org.
Connect with NVIC and become a health freedom advocate in your community today. Do it for yourself and for the children in this generation and for those yet to come.
Be the one who never has to say you did not do today what you could have done to change tomorrow.
It's your health. Your family. Your choice.
And our mission continues: No forced vaccination. Not in America
References:
1 Fisher BL. Editorial. Dissatisfied Parents Together (DPT) News Fall 1983.
2 World Health Organization. Ten Threats to Global Health in 2019. Jan. 16, 2019.
3 U.S. Centers for Disease Control (CDC). Recommended Child and Adolescent Immunization Schedule for ages 18 years or younger, United States, 2019. Feb. 5, 2019.
4 Rimler R. Pediatricians Speak Out on Vaccine Hesitancy. Healthline Apr, 5, 2019.
5 Adams E. Florida doctor to refuse in -person treatment for unvaccinated patients. USA Today Sept. 5, 2021.
6 National Vaccine Information Center. Cry for Vaccine Freedom Wall.
7 CDC. Developmental Disabilities. Apr. 29, 2022.
8 CDC. Diagnosed Allergic Conditions in Children Aged 0-17 Years: United States, 2021. NCHS Data Brief No. 459 January 2023.
9 CDC. Data and Statistics About ADHD. Aug 9, 2022.
10 Children and Adults with Attention Deficit/Hyperactivity Disorder (CHADD). General Prevalence of ADHD. 2022.
11 CDC. Data and Statistics on Children's Mental Health. Mar. 8. 2023.
12 CDC. Asthma in Children. May 10, 2018. https://www.cdc.gov/vitalsigns/childhood-asthma/index.html
13 CDC. Prevalence and Characteristics of Autism Spectrum Disorder Among Children Aged 8 Years – Autism and Developmental Disabilities Monitoring Network, 11 Sites, United States, 2020. MMWR Mar. 24, 2023; 72(2): 1-14.
14 Aaberg KM, Gunnes N, Bakken IJ et al. Incidence and Prevalence of Childhood Epilepsy: A Nationwide Cohort Study Pediatrics 2017; 139(5).
15 CDC. Epilepsy Fast Facts. Sept. 30, 2020.
16 CDC. Prevalence of Diagnosed Diabetes. Sept. 30, 2022.
17 Hayes TO, Gillian S. Chronic Disease in the United States: A Worsening Health and Economic Crisis. American Action Forum Sept. 10, 2020.
18 America's Health Rankings. International Comparisons: Infant Mortality and Life Expectancy. 2021 Annual Report.
19 Gunja MZ, Gumas ED, Williams RD. The U.S. Maternal Mortality Crisis Worsens: An International Comparison. Commonwealth Fund Dec. 1, 2022.
20 Rakshit S, McGough M. How does U.S. life expectancy compare to other countries? Peterson-KFF Tracker Dec. 6, 2022.
21 Fisher BL. Weaponizing COVID to Promote Collectivism. National Vaccine Information Center Nov. 15, 2022.
22 The White House. Fact Sheet: Biden Administration Announces Details of Two Major Vaccination Policies. Nov. 4, 2021.
23 Katz E. The Federal Employee COVID Vaccine Mandate Remains Blocked, After Appeals Court Ruling. Government Executive Mar. 24, 2023.
24 Messenger H. From Amex to Walmart, here are the companies mandating the Covid vaccines for employees. NBC News Jan. 25, 2022.
25 Best College. What Colleges Require the COVID-19 Vaccine? Sept. 9, 2022.
26 Open Table. Restaurants in the U.S. That Require COVID-19 Vaccination for Indoor Dining. Sept 14, 2021.
27 Kufhal P. New York City to Require Vaccinations for entry to gyms. Club Industry Aug. 3, 2021.
28 Baran M. These Hawaii, Caribbean, and New York Hotels Now Require Vaccination. AFAR Sept. 15, 2021.
29 Maddaus G. Movie Theaters in Some Cities Now Check for Vaccine Proof, Raising Fears About Release Delays. Variety Aug. 16, 2021.
30 The El Capitan Theatre (Hollywood). Safety Information: Know Before You Go.
31 Paulsen D. Some Episcopal cathedrals and churches begin requiring proof of vaccination to attend services. Episcopal News Service Sept. 16, 2021.
32 Magid S. No Shots, No Service. Tablet Magazine Sept. 2, 2021.
33 Lenthang M. Hundreds of hospital staffers fired or suspended for refusing COVID-19 vaccine mandate. ABC News Sept. 20, 2021.
34 Associated Press. More than 100 marines discharged for refusing COVID vaccine as troops across services face discipline. NBC News Dec. 17, 2021.
35 Olohan MM. Military Members Discharged for Refusing COVID-19 Vaccine Despite Religious Objections Speak Out. The Daily Signal Dec. 15, 2022.
36 Showalter B. California university fires medical ethics director amid lawsuit over COVID-19 vaccine mandate. Christian Post Dec. 22, 2021.
37 Emery S. Appeals court upholds dismissal of UC Irvine professor's COVID vaccination challenge. Orange County Register Nov. 24, 2022.
38 Ammassa A. New Mexico State University professor who bucked COVID-19 vaccine, mask mandates reportedly fired. Las Cruces Sun News Oct. 11, 2021.
39 Fisher BL. Unprecedented Response to COVIS-19 by Governments Prohibits Physical Contact and Cripples World Economy. Special Report on COVID-19 Pandemic, Part 4. National Vaccine Information Center Mar. 29, 2020.
40 Alexander P. The Catastrophic Impact of COVID Forced Societal Lockdowns. American Institute for Economic Research Jan. 30, 2021.
41 Mayer R. A Johns Hopkins study says "ill-founded" COVID lockdowns did more harm than good. Health News Florida Feb. 2, 2022.
42 Fisher BL. Vaccination and Censorship: The Truth Will Set Us Free. National Vaccine Information Center Jan. 26, 2021.
43 Fisher BL. Forced Vaccination Was Always the End Game. National Vaccine Information Center Sept. 22, 2021.
44 Fisher BL. NVIC Back Up On Twitter @NVICLoeDown. The Vaccine Reaction Feb. 12, 2023.
45 United Nations. Universal Declaration of Human Rights. 1948.
46 Fisher BL. From Nuremberg to California: Why Informed Consent Matters in the 21st Century. National Vaccine Information Center Oct. 24, 2017.
47 National Vaccine Information Center Advocacy Team. NVIC's 2022 Annual Report on State Vaccine Legislation. Nov. 17, 2022.
Leave a comment
Your email address will not be published. Required fields are marked with an *
24 Responses to "NVIC's Truth and Freedom Monument Stands in Cape Coral, Florida Defending Civil Liberties"