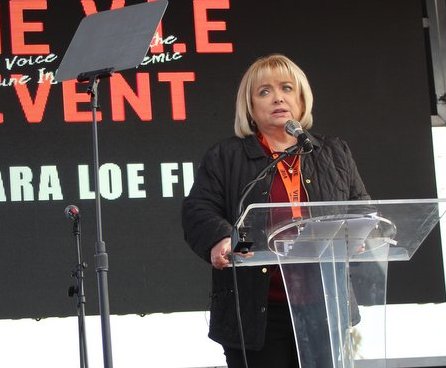 On Nov. 14, 2019, 3,000 people gathered on Capitol Hill in Washington, DC on a very cold but sunny winter day to be at the Vaccine Injury Epidemic Event (V.I.E) rally to honor those whose lives have been impacted by vaccine reactions, injury and death. Thousands of young parents with infants in strollers and children bundled up against the freezing weather huddled together to keep warm as they listened to speakers encouraging them to publicly witness their vaccine reaction experiences and have the courage to stand up for their right to make voluntary vaccine decisions.
Organized by CrazyMothers, a non-profit organization founded by Hillary Simpson, the event was co-sponsored by the National Vaccine Information Center (NVIC), Enriched Parenting, and other non-profits advocating for protection of children's health. The Capitol Hill rally marked the 33rd anniversary of the enactment of the 1986 National Childhood Vaccine Injury Act and was held on the National Mall between the Capitol building and the Washington Monument featuring a lineup of speakers that included parents of vaccine injured children, physicians, research scientists, lawyers, legislators, educators, and human rights advocates.
Vaccine Injuries More Than "one in a million"
CrazyMothers founder Hillary Simpson said she organized the event to highlight that vaccine injuries are prevalent – not one in a million as is commonly cited – and to give a voice to those whose lives have been affected by the vaccine injury epidemic.
"I started CrazyMothers as a way to give a voice to the mothers who are at home all day every day with their severely vaccine-injured children," said Simpson "My inspiration for V.I.E. was to have one day where they could show up, be heard and feel like they were a part of something big. Many of these parents are so busy caring for their medically fragile children that they don't get the opportunity to do everyday things or get together in a community."
NVIC Co-founder and President Barbara Loe Fisher led off the rally that started at Noon with remarks that included a description of how, shortly after the 1986 Act was signed into law by President Reagan, the Act's congressional sponsors betrayed parents and began to dismantle the Act's safety, research and compensation provisions with a series of damaging amendments and rule changes implemented by federal agencies. She warned that the refusal of the medical establishment to conduct research into vaccine side effects while at the same time promoting more oppressive vaccination laws is violating civil and human rights.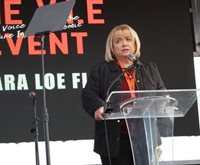 "If we do not get up off our knees and stop worshipping scientists and doctors who have too little knowledge and have been given too much power, tomorrow we will not be able to get on a bus, train or plane; enter a store or sports arena; obtain a driver's license or passport, file our taxes or function in society without getting every vaccine that industry creates and the government orders us to get," she said.
20 Speakers, Vaxxed Bus and New "The People's Truth" Movie
Other speakers included Del Bigtree, founder of Informed Consent Action Network (ICAN); James Lyons-Weiler; Mary Holland, JD; Bob Sears, MD; Maine State Rep. Heidi Sampson; Jim Meehan, Jr., MD; Sherri Tenpenny, DO; Maine State Rep. Robert Foley; Shiva Ayyadyral, PhD; Mark Blaxill; Kari Bundy; Dr. Andrew Wakefield; Robert F. Kennedy, Jr, founder of Child Health Defense; Kevin Barry, JD, and Sheila Ealey.
The VAXXED bus, which made the trip from Austin, Texas, was parked alongside the rally on the National Mall. The night before the rally, NVIC co-sponsored a screening of the new VAXXED 2 movie: The People's Truth followed by a Q&A session at the U.S. Navy Memorial Burke Theater. Vaxxed 2 producer Polly Tommey presented Barbara Loe Fisher the 2019 Richard Barber Award for "outstanding contributions to humanity."
Believe and Empower the Mothers
Commenting on why she thinks it is important for mothers describing what happened to their children after vaccination to be taken seriously, Hillary Simpson compared the vaccine injury awareness movement to the "MeToo" and "Believe Women" awareness campaigns and questioned why "there has been no room at the podium for victims of vaccine injury."
She said:
"At the base of these movements is the idea that just because you didn't experience something doesn't mean that you didn't experience something. That seems to completely stop when it comes to mothers of vaccine injured children, and we really need to ask ourselves why? Why is it OK to marginalize this group of women when we advocate for other groups of women who have been disenfranchised? Why aren't we believing all women when they challenge conventional power structures?"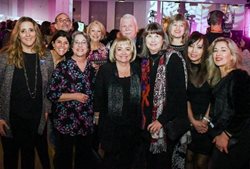 In her rally remarks, Loe Fisher described the magnitude of the child chronic disease and disability epidemic associated with one-size-fits all vaccine policies and laws and agreed with Simpson's call for respect and empowerment of mothers standing up for their right to make informed, voluntary vaccine choices for their children. She said:
"…the ones who know deep in the core of their being that children are in danger, are the mothers, who carry babies inside them for nine months and give birth and are endowed with a primal instinct God gave women so they have the courage to protect their babies from harm until they are able to survive on their own. That biological imperative is hard wired into our DNA. It is what protects the survival of every species on this earth. And yet, mothers, who know their children best, are being bullied, ridiculed and punished if we use our intellect and listen our gut instincts and refuse to violate our conscience when caring for our children."
Maine to Hold Ballot Vote To Veto Mandatory Vaccine Law
In her rally remarks, Maine State Representative Heidi Sampson told attendees that the residents of Maine will be able to vote in March 2020 to repeal the most oppressive vaccine mandate in the nation narrowly passed by the Maine legislature this year. She said that on Oct. 17, the Secretary of State verified that a people's veto referendum qualified for the ballot with 79,000 valid signatures from registered Maine voters, which means that Maine residents will be able to vote on Mar. 3, 2020 to restore religious and philosophical vaccine exemptions so children and adults living in Maine can be educated.
Rep. Sampson said: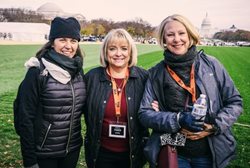 "We Mainers did it. We have officially gotten our people's veto referendum on the ballot. In March we will be the first state in the nation to hold a popular vote on government mandated vaccines. It is a pivotal moment for all of us, not just Maine, but across the country. Mainers for Health and Parental Rights are engaged in an unprecedented grassroots effort to overturn the recently passed LD 798 shoved through by Big Pharma and their cronies. This law, the most punitive law and overreach mandate in the nation removes both children and adults from school – public, private, parochial, online, trade schools, including higher education, including employees in daycare and health care services – should they miss just one dose of a required vaccine."
Announcements at the Rally
There were several other announcements made at the rally on Nov. 14. In his remarks, Dr. Andrew Wakefield said that he is producing a film about the National Childhood Vaccine Injury Act of 1986 to be released in 2020. Hillary Simpson said that the next V.I.E rally would be held in Washington, DC in 2021.
Leave a comment
Your email address will not be published. Required fields are marked with an *
1 Responses to "Vaccine Injury Event (VIE) Rally Draws 3,000 to Capitol Hill"