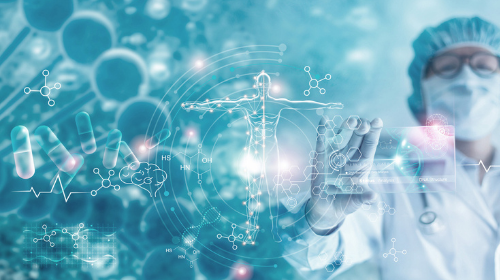 On March 1, 2013, automatic, across-the-board U.S. federal budget cuts known as sequestration are scheduled to take effect and the leading funder of biomedical research—the National Institutes of Health (NIH)—is one of the biggest targets. NIH is facing a 5.1 percent budget cut of $1.6 BILLION.
NIH officials are telling Congress and the media that the health of the nation is at stake if more than a billion dollars is cut from its budget. But it begs the bigger question: what does NIH fund and how is their taxpayer-funded research impacting the future of health care, especially when it comes to vaccine research and development? NIH officials are telling Congress and the media that the health of the nation is at stake if more than a billion dollars is cut from its budget. But it begs the bigger question: what does NIH fund and how is their taxpayer-funded research impacting the future of health care, especially when it comes to vaccine research and development?
NIH Money Created Lethal Bird Flu Virus
The avian flu debacle is a good example of why some people are questioning whether NIH dollars are always used wisely.
Last month, NIH-funded scientists, working separately in labs in the United States and Europe, declared they were ending a voluntary halt on their two different research projects—both equally controversial—that involved creation of an airborne transmissible form of the deadly H5N1 strain of the bird flu virus. The scientists agreed to pause their work in December 2011 because of biosecurity and public health concerns raised when the scientists planned to publish research details in the medical literature.
Concern the Virus Could Escape the Labs
The research has raised alarm among U.S. bioterrorism agencies and other scientists because it has involved deliberately mutating H5N1 to make it more transmissible in ferrets and there is concern the virus could accidentally escape from the labs and potentially infect humans. Arguing that "the benefits outweigh the risks," the lab scientists say that creating a mutated deadly and transmissable form of bird flu virus will help in the quick development of a vaccine if the virus naturally mutates on its own and infects humans in the future.
In the spring of 2012, both studies were published. However, the voluntary moratorium on further lab research on the mutated bird flu virus stayed in place until now. While other countries have granted permission for the studies to continue, U.S. federal agencies want to first put in place extra guidelines for government-funded higher-risk lab research like this.[1][2]
How Much NIH Money Was Spent?
At the center of the drama are Yoshihiro Kawaoka and Ron Fouchier, the lead scientists to the two separate studies. Fouchier will resume his bird flu work within a few weeks using European funding at the Erasmus Medical Center in Rotterdam, The Netherlands. However, Kawaoka, a professor of pathobiological sciences at the University of Wisconsin-Madison School of Veterinary Medicine, will have to wait until the new government guidelines are implemented.[3]
Fouchier received some NIH funding, while Yoshihiro's H5N1 research is primarily funded by NIH. In 2006, Yoshihiro received a $506,275 grant through the National Institute of Allergy and Infectious Disease for the project titled "Pandemic Potential of H5N1 Influenza Viruses." For the same project, he received $491,594 in 2007, $485,519 in 2008, nearly $1 million in 2009 and $480,844 in 2010, for a grand total of nearly $3 million.[4]
His work now waits in limbo to be continued in a $12.5 million, 2000-square foot Influenza Research Institute at the University of Wisconsin,[5]which was especially built for Yoshihiro's growing H5N1 research and funded by a partnership between the University of Wisconsin-Madison and the Wisconsin Alumni Research Foundation. [6]
NIH Claims Sequestration Threatens Jobs, Economic Growth
According to an analysis by United for Medical Research (UMR), which is a coalition of medical trade associations, pharmaceutical and biotechnology companies and universities receiving NIH and drug company grants, the $1.6 billion NIH cuts from the sequestration could trigger a elimination of 20,500 jobs and a $3 billion loss of economic activity. In a recent press release, UMR argued that NIH should not get any budget cuts because the agency "supports more than 402,000 jobs and $57.8 billion in economic output nationwide, in 2012 alone."[7]
NIH director Dr. Francis Collins told The Associated Press that NIH cuts would delay the start of hundreds of medical research projects across all disease states.[8] He said there could also be delays to existing grant-funded multi-year projects even though most of these award recipients have been funded at 90 percent of what was promised so far, but the budget sequester would likely tie up the rest of their funding.[9]
NIH Grant Competition Fierce
Federal funding for NIH doubled from 1988 to 2003, but there has been growing competition for NIH grants fueled by an increasing number of scientists seeking government funding for their research. The success rate for winning a grant is at its lowest level in history.[10] In the 2012 fiscal year, NIH awarded 13,989 grants totaling more than $5.5 billion for a grant application success award rate of 20.3 percent.[11]
Collins warned that one of the medical advances being threatened by sequestration is the development of a universal flu vaccine. At a February hearing on Capitol Hill, Food and Drug Administration (FDA) Chief Scientist Dr. Jesse Goodman confirmed that a universal flu vaccine is still 5 years to 10 years away.[12]
NIH Grants Also Fund Vaccine Manufacturers
Overall, there are currently 4,595 completed, active or recruiting vaccine-related trials in the NIH database. Of these, 1,053 trials list NIH as a funding source, while 3,411 trials list NIH and/or industry.[13]
The expanding public-private partnership between NIH and pharmaceutical companies is accelerating the development of many new genetically engineered vaccines. Billions of dollars in NIH grants are being used to create vaccines using genetically modified animal and insect cells and novel adjuvants that will ramp up the human immune response.
For example, NIH awarded $1 billion in 2006 to six pharmaceutical companies to be used toward cell-based flu vaccine research.[14] In 2009, Protein Sciences received a Department of Health and Human Services contract for up to $147 million to advance their study on using genes to manufacture a flu vaccine.[15] That vaccine received approval in January.[16]
Alternatives to NIH Research Grants
With the ongoing national budget crisis and looming decrease in congressional NIH budget appropriations, efforts to reassess scientific research funding sources are underway even as medical trade groups, drug companies and universities oppose NIH funding cuts.[17]

There are a number of other options when it comes to paying for medical research. Some scientists have turned to a "crowdfunding" concept, where they raise funds from individuals to pay for scientific research.[18]

Others have moved away from depending on NIH grants and working under an open-ended funding model, like at Howard Hughes Medical Institute.[19] Additionally, the European Council just approved a larger research budget and expanded its framework to encourage more research cooperation with non-European Union parties.[20]
Should NIH Grant Focus Change?
There is a school of thought that NIH research dollars are not being used to fund some of the most important or necessary scientific initiatives, such as in the example of the H5N1 research. Dr. John Ioannidis, professor of medicine and director of the Stanford Prevention Research Center at Stanford University School of Medicine,[21] along Joshua Nicholson from Virginia Tech, wrote a commentary in the Dec. 6 issue of Nature examining the efficiency of the NIH funding system.
The team found that since 2001, the majority of primary authors who produce the most leading-edge discoveries (based on their papers having received 1,000 citations or more) actually do not have funding from NIH. Instead, NIH typically funds conventional, incremental science. Further, those who influence the funding allocations are not among the high-impact scientists. In their commentary, Ioannidis and his colleague expressed concern that the NIH mission to fund "the best science, by the best scientists" is not being achieved and the allocation mechanism should be improved.[22]

"It is unknown whether other funding mechanisms are more efficient, they may even be worse," Dr. Ioannidis stated in an interview with a reporter for the NVIC Newsletter, "If anything, I would argue that NIH should get a much larger budget, so that it can afford to venture more with high-risk innovative ideas and to support influential scientists from different disciplines and types of investigation."[23]
References:

[1] Fouchier RAM, Sastre AG, Kawaoka Y, et al. H5N1 virus: Transmission studies resume for avian flu. Nature. Jan. 23, 2013. 493.
[2] Fouchier RAM, Garcia-Sastre, Kawaoka, Y, et al. Transmission Studies Resume for Avian Flu. Science. Jan. 23, 2013. 339:520-1.
[3] Landau, E. CNN. Bird flu research resumes—but not in U.S. Jan. 23, 2013.
[4] NIH Awards by Location and Organization. NIH Research Portfolio Online Reporting Tools (RePORT). Updated Oct. 12, 2012.
[5] Herzog K. Amid massive security, bird flu virus research awaits approval. Journal Sentinel. Feb. 19, 2013.
[6] Devitt T. UW-Madison to launch new influenza research institute. University of Wisconsin-Madison News. March 15, 2006.
[7] United for Medical Research. Looming Sequestration Cuts to Medical Research Threaten More Than 20,000 Jobs. Feb. 6, 2013.
[8] Neergaard, L. Associated Press. NIH chief: Cuts put vital medical research at risk. Feb. 14, 2013.
[9] Wadman M. Science agencies prepare for cuts. Nature. Feb. 14, 2013. 494:158-9.
[10] National Institutes of Health. Biomedical Research Workforce Working Group Draft Report. June 14, 2012.
[11] National Institutes of Health Research Portfolio Online Reporting Tools. Grants: Applications, awards, success rates, and total funding, by Institute/Center, mechanism, activity code, and funding source. Updated Feb. 1, 2013.
[12] Roos R. Centers for Infectious Disease Research & Policy. FDA expert: Universal flu vaccine still 5-10 years off. Feb. 13, 2013.
[13] ClinicalTrials.gov. Accessed search for "vaccine" Feb. 22, 2013.
[14] Steenhuysen J. Reuters. Insight: U.S. government investment gives flu vaccines a shot in the arm. Jan. 19, 2013.
[15] HHS Announces Advanced Development Contract For New Way to Make Flu Vaccine. Department of Health & Human Services. June 23, 2009.
16] U.S. FDA Approves Flublok, the World's First Recombinant Hight Purified, Egg-free Influenza Vaccine. Protein Sciences. January 16, 2013.
[17] The Federation of American Societies for Experimental Biology. Policy & Government Affairs – Act Now – Tell Congress to Stop Sequestration!
[18] Palca J. Scientists Look To The Internet To Raise Research Funds. NPR. Feb. 15, 2013.
[19] Howard Hughes Medical Institute. About HHMI.
[20] Beary B. "We're rediscovering each other" on research, says Commission. Europolitics. Feb. 14, 2013.
[21] Stanford University. Community Academic Profiles: John Ioannidis.
[22] Nicholson JM and Ioannidis JPA. Research grants: Conform and be funded. Nature. Dec. 6, 2012. 492:34-6.
[23] Interview with Dr. John Ioannidis. Feb. 18, 2013.
Leave a comment
Your email address will not be published. Required fields are marked with an *
4 Responses to "NIH $1.6 Billion Funding Cut Threat & Vaccine Research "