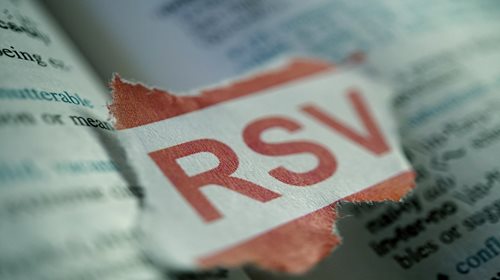 Among adults 65 years of age and older, it is estimated that between 900,000 to 1.4 million cases of human respiratory syncytial virus (RSV) infections occur annually that lead to between 60,000 and 160,000 hospitalizations and 6,000 to 10,000 deaths each year in the U.S. Individuals with underlying conditions such as cardiovascular disease, diabetes, chronic obstructive pulmonary disease (COPD), asthma, and immunodeficiencies are at higher risk for severe complications and poor health outcomes.1
RSV is a common respiratory infection and symptoms (fever, runny nose, cough) are similar to a cold. The majority of individuals recover within a few days from an uncomplicated RSV infection.2 However, the virus can cause lower respiratory infections that require medical attention and sometimes hospitalization.3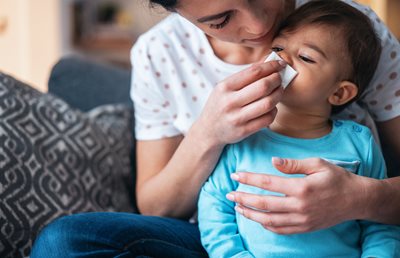 It is estimated that 2.1 million outpatient cases occur in children under five years of age with between 58,000 to 80,000 hospitalizations.4* Additionally, almost all children get RSV by the time they reach two years of age, and only one to two cases out of 100 require hospitalization, with premature infants and immunocompromised children being at the highest risk for severe RSV illness.5 6 7
Currently, two RSV vaccines are being considered for licensure by the U.S. Food and Drug Administration (FDA) and use recommendations by the Centers for Disease Control's (CDC) Advisory Committee on Immunization Practices (ACIP) for adults age 60 or 65 years and older. Arexvy is manufactured by GlaxoSmithKline (GSK) and ABRYSVO is manufactured by Pfizer.8
Cost analysis data presented to the ACIP did not show the RSV vaccines to be cost-effective at reducing the burden of costs associated with RSV illness.9
Estimated $10 Billion Marketplace for RSV Vaccines Worldwide
Of the two RSV vaccines, GSK's AREXVY was approved by the European Medicines Agency (EMA) in April 2023 for use in adults over 60 years of age. On May 3, 2023 the FDA approved GSK's Arexvy for use in adults 60 years of age and older,10 beating Pfizer's ABRYSVO to the U.S. market.
It is anticipated that the ACIP will make RSV vaccine use recommendations during their upcoming June meeting. At stake for vaccine manufacturers is an estimated global market of over $10 billion by 2030.11
RSV Vaccines Do Not Prevent Transmission of Infection
Data presented in Febuary to the ACIP demonstrated that neither vaccine prevented transmission of the virus. Vaccine efficacy beyond the clinical trial follow-up time of six to seven months is unknown.12
The data also noted that vaccine efficacy for the GSK vaccine peaks at two months post-vaccination but, after one year, the product offers no vaccine acquired protection. The Pfizer vaccine is assumed to offer persistent protection for seven months but declines to 0% effectiveness by 24 months.13 CDC officials also presented data to the ACIP indicating that the sample size used for both vaccines was underpowered and efficacy could not be estimated for hospitalization and death.14
Notably, Pfizer's February briefing documents submitted to the FDA's Vaccines and Related Biologic Products Advisory Committee (VRBPAC) stated that there were two cases of vaccine-related Guillain-Barré Syndrome (GBS) among the 19,942 vaccinated participants, a rate that may put the risk of GBS as high as one in 10,000.15
RSV Vaccine May Be Recommended Annually for Adults
Once approved for use by the FDA and recommended by ACIP, the potential increase to the adult vaccination schedule would be a single dose of RSV vaccine given to adults 60 years of age and older. However, presentations made to the ACIP did not specify whether the vaccine was to be a one-and-done vaccine, or if it would be administered annually, given that RSV cases have a seasonality similar to influenza.
If treated as a seasonal vaccine, the number of vaccine doses recommended for adults increases substantially for individuals 60 years of age and older.
Reactions, Deaths of Pregnant Women and Babies in RSV Vaccine Clinical Trials
The ACIP has also reviewed data presented by Pfizer on ABRYSVO for use in pregnant women as a single dose given at 24‒36 weeks during pregnancy. The rationale offered by public health officials is that injecting pregnant women with RSV vaccine will enable them to pass on protective antibodies to their unborn children to prevent RSV in infants from birth through six months of age.16
Data presented by Pfizer from RSV clinical trials involving 3,682 vaccinated pregnant women revealed that nearly 14 percent experienced a vaccine adverse event, with 4.2 percent reported as serious, 1.7 percent reported as severe, and 0.5 percent as life-threatening.17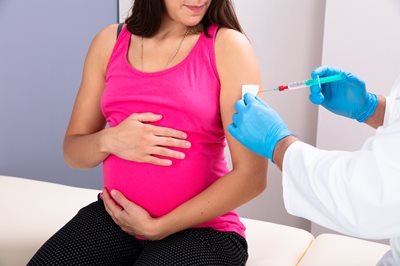 Pfizer also provided data that 37.1 percent of infants, whose mothers received the experimental RSV vaccine during pregnancy, were reported to have experienced an adverse event within one month of birth. Of these reports, 15.5 percent were reported as serious, 4.5 percent as severe, and 1 percent as life-threatening.18 Pfizer data also noted small increases in premature and low birth weight for infants born to RSV vaccinated pregnant women. The RSV clinical trial data also included the death of one pregnant woman, 18 still births (10 in vaccinated pregnant women and 8 in unvaccinated pregnant women), and 17 infant deaths (5 from the vaccinated pregnancy group and 12 in unvaccinated pregnancy group).
Pfizer stated that all deaths occurring in the RSV vaccine clinical trials were unrelated to the vaccine.19
Once approved for use in the general population for pregnant women, associated RSV vaccine injuries to the mother and/or unborn child are subject to filing injury claims with the federal VICP,20 which essentially provides vaccine makers with a total liability shield when their vaccines cause injury and death. It is unclear at this point in time whether the RSV vaccine will be recommended for administration during each pregnancy.
Low RSV Vaccine Efficacy in Preventing Infection in Infants
Pfizer also reported RSV vaccine efficacy in infants as 57.1 percent at 90 days after birth, waning to 51.3 percent at 180 days and 41 percent at 360 days. Vaccine efficacy for severe RSV was reported at 81.8 percent at 90 days after birth, waning to 69.4 percent at 180 days. Vaccine efficacy related to hospitalizations were reported to be 67.7 percent at 90 days after birth, waning to 33.3 percent at 360 days.21
FDA to Consider Licensing Pfizer's RSV Vaccine for Pregnant Women on May 18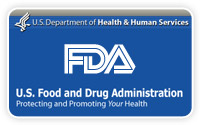 The FDA's Vaccines and Related Biological Products Advisory Committee (VRBPAC) meets virtually on May 18, 2023 from 8:30 a.m. to 5:30 p.m. Eastern Time to discuss the biologics license application (BLA) for Pfizer's RSV vaccine ABRYSVO to prevent infection in infants from birth through six months of age by vaccinating pregnant women. The meeting is open to the public and public comments may be submitted for consideration. Unfortunately, if recent VRBPAC meetings are any indication, background materials about the meeting may not be provided to the public prior to the deadline for written public comments.
The deadline for submitting written public comments to the FDA is May 17, 2023. Information on oral public comment opportunities and how to submit a written comment can be viewed in the meeting notice issued by the FDA.22
ACIP Recommends RSV Drug for Infants and Toddlers
During their February meeting, the ACIP also considered the policy question of recommending that infants receive the monoclonal antibody Nirsevimab by AstraZeneca and Sanofi, which is also currently under FDA review for licensure.23
The drug dosage under consideration by the ACIP is a birth dose for all infants born between October to March or a dose upon entering the first RSV season at less than eight months of age if born sometime between April through September. Data presented to the ACIP demonstrated Nirsevimab as being effective in preventing RSV outpatient visits and RSV-related hospitalization, but it was unclear if the drug prevented ICU stays or deaths.24
Importantly, Nirsevimab is not a vaccine, but a drug25 and its efficacy in preventing RSV is not known beyond 150 days. It is unclear why the ACIP, which is a federal advisory committee charged with making vaccine use recomendations, has chosen to go beyond its charge of making vaccine use recommendations.
NVIC Posts RSV Information on NVIC.org
NVIC is providing the public with information on RSV on NVIC.org. These webpages include information on infection and transmission; who is at high risk for infection; current disease prevention strategies, and RSV complications. To learn more about RSV, visit these pages and revisit them to learn about RSV vaccines after they are licensed and recommended for use in the United States.

* Statement updated for clarity and context.
Leave a comment
Your email address will not be published. Required fields are marked with an *
8 Responses to "FDA Committee to Vote on New RSV Vaccine Targeting Pregnant Women & Babies"