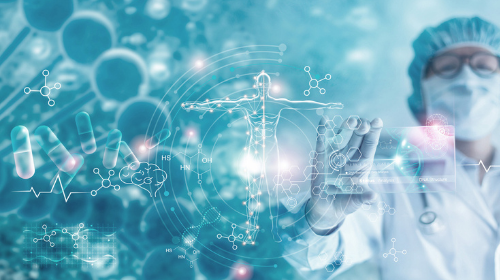 Yesterday, the Institute of Medicine issued a report The Childhood Immunization Schedule and Safety: Stakeholder Concerns, Scientific Evidence and Future Studies. The report was based on a 12-month evaluation by an IOM committee of the scientific evidence supporting the federally recommended child vaccine schedule. The Committee made recommendations about the feasibility of conducting research to evaluate the health outcomes of vaccinated and unvaccinated children and those following an alternative vaccine schedule.
Good News and Bad News
There is good news and bad news in this report. Good news: the committee repeatedly pointed out the astonishing lack of quality scientific studies to support the safety of the CDC-recommended numbers of doses and timing of vaccinations for children 0 to 6 years old in the child vaccine schedule. The committee confirmed there are large knowledge gaps, especially about children with increased biological susceptibility to suffering vaccine reactions and injuries.
Bad news: The committee's recommendation is that the CDC should conduct future vaccine safety studies using closed patient databases like the Vaccine Safety Datalink (VSD), which unfortunately prevent independent replication of the findings. For more than two decades, NVIC has called for independent vaccine safety research by investigators without industry or government conflicts of interest.
NVIC's Press Release: Call for Transparency
NVIC issued a press release last night that calls for transparency, independence and replication in future vaccine safety research to examine the safety of the child vaccine schedule. The outstanding question every parent wants to answered remains: When will the real vaccine safety science conducted by researchers without industry or government conflicts of interest begin?
Click on image below to read press release and access live links.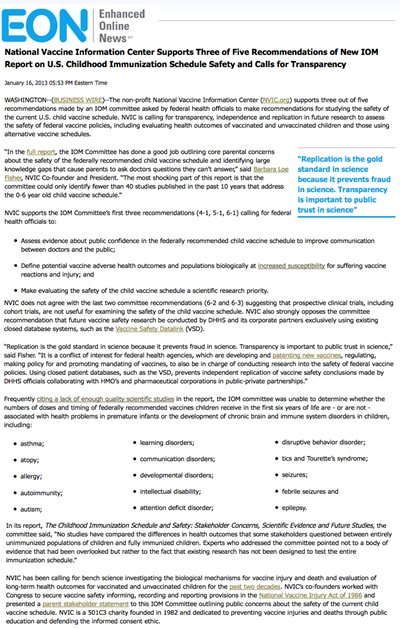 Leave a comment
Your email address will not be published. Required fields are marked with an *
20 Responses to "IOM Issues Report on Safety of the Child Vaccine Schedule: When Will the Real Science Begin?"