Ask 8 Information Kiosk
---
Explore FREE downloadable educational materials.
Report Your Vaccine Experiences
Read and report vaccine reactions, harassment and failures.
Gardasil Vaccine & the Damage Done
Ashley and her Mom, Lisa
---
---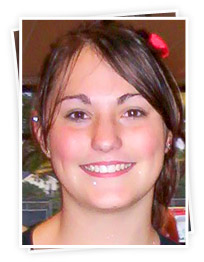 Ashley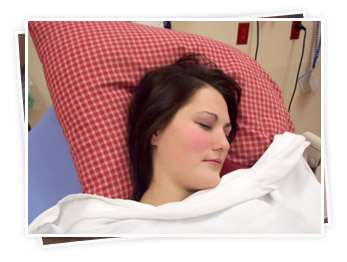 Ashley, hospitalized after Gardasil shots
Report a Vaccine Reaction to NVIC
VIDEO of Ashley talking about her Gardasil reaction
Read about similar Gardasil reactions reported to the government
Newspaper story about Ashley's Gardasil reaction

Ashley's Gardasil Reaction Story
by her Mom, Lisa
December 2008
My daughter received two Gardasil shots, one in August and one in October 2007 along with the vaccine for meningitis.
Since then, my healthy teenage daughter became a chronically ill young woman. In the last year I have called 911 more times than I can count. She has been hospitalized three times within a year. We have seen many doctors and specialists.
Ashley experiences life threatening episodes of seizure like activity, difficulty breathing, major back spasms, paralysis, dehydration, memory loss and tremors. At times she becomes unresponsive. She has daily illnesses of nausea, exhaustion, vomiting, pain, and hair loss. I have provided CPR to her on a regular basis.
Ashley has missed a semester of school and now only attends 1-2 days a week. She has no energy to have a normal teen life and keep up with her friends. She can sleep up to 15 hours a day. After an episode she will sleep up to three days.
Before this, Ashley was a healthy girl, involved in extra curricular school activities and has always received top grades.
In December 2008 we accepted the fact that she has been having a vaccine reaction. For the last year I have been researching her symptoms and it was Ashley who asked me about the vaccines. I was shocked as I researched and read stories of other young women having the same experiences as Ashley.
Having a chronically ill child for over a year and not knowing why has been unreal. Now that I know why this is happening to her, feel even more perplexed. We have no answers or treatment.
Our primary care doctor, who has been very kind, has spent the time researching Ashley's four inch high medical records, admits this is out of his area of expertise. He has no idea who to refer us to. We are treating her symptoms with pain killers and medication for nausea and vomiting.
It is unacceptable to have my 16 year old daughter on a strong addictive pain killing drug. However, it is all she has to help her cope with her severe symptoms.
I have learned some parents are seeking treatment for their daughters from doctors who practice alternative health care. I have made multiple appointments with different alternative medical doctors with the hope that we find one who will take the time to educate us and provide treatment that is safe and works.
My first question I have will be, "How can we detox the body of a vaccine that was made to protect her for life?" Regular or primary doctors have warned me to be careful with alternative medicine due to that could cause more damage to her body. At the same time her regular doctors do not know what to do for her either.
Ashley came into my life when I was 20. We grew up along side each other. I am a single mother and have dedicated my life to provide a safe, fun, loving environment for my daughter. She has been a gift in my life. I describe her as having an old soul. People of all ages, race, disabled, even animals connect with her. She has always attracted attention from everyone even complete strangers. Ashley will immediately help anyone in need - from holding open a door to standing up for a child being picked on.
People in our community always tell me what a great job I have done raising her. The truth is, she was born with this kindness. And because of who Ashley is, the people, community, schools, and family have always been very supportive. I have never felt I raised my child alone. I am so proud of her.
Now Ashley is sick. Her life is dealing with daily symptoms and hoping for a day without a life threatening episode. She is trying to go to school and stay caught up with her school work. Her teachers, counselors, school nurse and administrators are supporting her and becoming personally involved with her education. They have gone above and beyond what I can ask for. Even taking the responsibility to provide the skills necessary to keep her stable when she has an episode at school before the ambulance arrives.
Ashley and I have had conversations in the event if she may die. I can only promise her that I will do everything in my power for this not to happen. And we need to focus on healing. I never thought in a million years a vaccine would do this much damage to my beautiful girl.
We are struggling financially now because of the medical bills. I have always provided the basic needs and stayed off government help. Ashley deserves to have the best medical treatment she can get so she can heal. I don't know what is going to happen to her, to us.
I stay strong for my daughter. I also cry with her too. I keep faith in knowing God doesn't put more on our shoulders than we can handle. As a mother, I also feel the responsibility to get Ashley's story out there so we can help other families.
---
Opens in new tab, window
Opens an external site
Opens an external site in new tab, window