Ask 8 Information Kiosk
---
Explore FREE downloadable educational materials.
Is HPV Contagious?
Updated August 14, 2022
---
---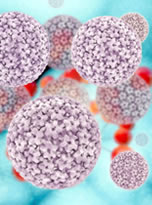 Yes, HPV is contagious and more than 40 HPV types can be transmitted through sexual contact with an infected person. These 40 HPV types are found in the mucosal membranes of the body and transmitted through vaginal, oral or anal sex. Most of these HPV infections are asymptomatic and result in no clinical disease. Per the CDC, "More than 90% of new HPV infections, including those caused by high-risk HPV types, clear or become undetectable within 2 years, and clearance usually occurs in the first 6 months after infection." In very rare cases, genital HPV types can be spread from mother to infant.
Most HPV types - 75 percent - are skin (cutaneous) infections and are spread by skin-to-skin contact and are not sexually transmitted. Cutaneous HPV types can be found on the arms, hands, feet and legs and are associated with common warts.
The CDC acknowledges that there are gaps in scientific knowledge about how, why and when HPVs are transmissible as noted below:
"HPV is presumably communicable during the acute infection and during persistent infection. This issue is difficult to study because of the inability to culture the virus. Communicability can presumed to be high because of the large number of new infections estimated to occur each year."
IMPORTANT NOTE: NVIC encourages you to become fully informed about HPV and the HPV vaccine by reading all sections in the Table of Contents , which contain many links and resources such as the manufacturer product information inserts, and to speak with one or more trusted health care professionals before making a vaccination decision for yourself or your child. This information is for educational purposes only and is not intended as medical advice.
Resources
1 National Institutes of Health (NIH). HPV and Cancer. National Cancer Institute. Feb. 19, 2015.
2 CDC. Surveillance Manual – Chapter 5: Human Papillomavirus (HPV) - Background. 6th Edition, 2013.
3 Ibid
4 CDC. Human Papillomavirus. Epidemiology and Prevention of Vaccine-Preventable Diseases (The Pink Book). 13th ed. 2015.
5 Mercola. Know the Different HPV Types and How They Can Affect Your Health. No date.
6 Ibid
7 American Academy of Dermatology Association. Warts: Overview. No Date.
8 CDC. Human Papillomavirus. Epidemiology and Prevention of Vaccine-Preventable Diseases (The Pink Book). 13th ed. 2015.
---
Opens in new tab, window
Opens an external site
Opens an external site in new tab, window