Ask 8 Information Kiosk
---
Explore FREE downloadable educational materials.
Report Your Vaccine Experiences
Read and report vaccine reactions, harassment and failures.
Gardasil Vaccine & the Damage Done
Megan and her mother, Karen
---
---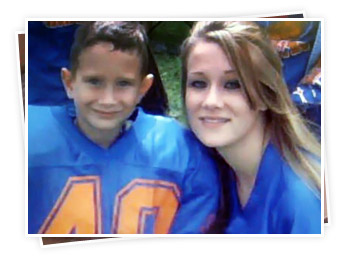 Megan with her nephew at football practice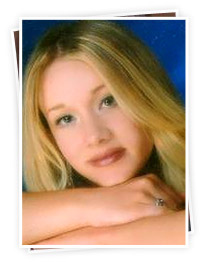 Megan
Report a Vaccine Reaction to NVIC
Read about similar Gardasil reactions reported to the government
Megan was a healthy, bright 20 year old college student who did not smoke or drink and got regular medical check-ups. She wanted to work in the health care field and was engaged to be married after she graduated from college.
Megan got a third Gardasil shot in September 2008. In the days and weeks following the shot, she said she felt very tired and was having a lot of "dizzy spells." On November 15, 2008, she died suddenly without explanation. No cause of death was found.
Megan loved to look at the stars at night. Just before Christmas, her family spread her ashes on Coal Bank Pass in Colorado at 11,000 feet so she could be close to the stars she loved.
Letter to Megan from Karen
January 2009
Dear Megan,

I am so sorry that I can't talk with you anymore. I miss you so much. I had spoken with you only hours before that day in November and I can't believe you are gone.I can't help but sit here and think about you and what you would be doing if you were still here.
You were only twenty years old, would have been twenty one on Thanksgiving Day. You had so many dreams. You were studying Radiology in college. Watching babies in the womb was something you had really wanted to do. We will never know what you would have done with your life, how far you would have gone.

We won't have the chance to see you graduate or be a bride. I know how much your sisters were looking forward to making you the most beautiful bride ever. The day won't come when I will watch you hold your own child in your arms. I remember watching you from a distance with your nieces and nephew and thinking of the Mom that you would be. Now I will never know.
Your 16 year old brother cries for you and I don't know what to do but to hold him and cry with him. How can we tell him that this vaccine that is advertised on T.V. and is so highly recommended in the doctors offices as something that is going to protect our children is actually taking lives and making others so ill. How can we ask him to trust what doctors say?

We thought that getting the Gardasil vaccine was the right thing to do. We thought it would protect you, so that you would be here to live all those dreams.
It was only weeks after you had the third shot that you died suddenly, without warning and with no answers. Now you are gone and so are all the dreams.
We are going to miss you terribly. My heart is breaking writing you this letter.
With all my love,
Mom
---
Opens in new tab, window
Opens an external site
Opens an external site in new tab, window