Ask 8 Information Kiosk
---
Explore FREE downloadable educational materials.
Who Should Not Get HPV Vaccine?
Updated August 14, 2022
---
---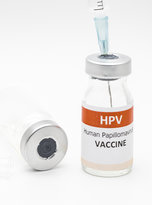 According to the CDC anyone who has ever had a life-threatening allergic reaction to a previous dose of HPV vaccine should not get another dose. Anyone with a severe allergy to any part of the vaccine should not receive the vaccine. The CDC also advises that anyone with any severe allergies, including a severe allergy to yeast, should notify their doctor prior to vaccination. HPV vaccine is not recommended for pregnant women. People who are moderately or severely ill at the time the vaccine is scheduled should wait until they recover before getting HPV vaccine.
While the CDC states that HPV vaccine may be administered to women who are breastfeeding, the manufacturer's product insert reports that there are insufficient studies available to assess the effects of the vaccine on milk production/excretion or on the breastfed infant. Gardasil 9, the only HPV vaccine currently available in the United States, is approved for males and females between the ages of 9 and 26. Persons younger than 9 or older than 26 should not receive this vaccine.
Information about contraindications (reasons why a person should not get a vaccine) to HPV vaccine are contained in the manufacturer's product information package insert that accompanies vials of vaccine provided to doctors and other medical personnel administering the vaccine, and can also be found on the FDA's website.
IMPORTANT NOTE: NVIC encourages you to become fully informed about HPV and the HPV vaccine by reading all sections in the Table of Contents , which contain many links and resources such as the manufacturer product information inserts, and to speak with one or more trusted health care professionals before making a vaccination decision for yourself or your child. This information is for educational purposes only and is not intended as medical advice.
---
Opens in new tab, window
Opens an external site
Opens an external site in new tab, window