Ask 8 Information Kiosk
---
Explore FREE downloadable educational materials.
Report Your Vaccine Experiences
Read and report vaccine reactions, harassment and failures.
Gardasil Vaccine & the Damage Done
Cassie, 15
---
---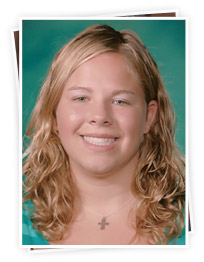 Cassie
Report a Vaccine Reaction to NVIC
Read about similar Gardasil reactions reported to the government
"Our Gardasil Nightmare"
by Cassie's Mom, Kim
Our nightmare started in December 2007 without us even knowing it when my fun loving, active daughter willingly pulled up her sleeve and received the first of three Gardasil shots. Cassie, 14 at the time, is known for her genuine love of life and her heart-warming smile. She was very active in her church and youth group and was an athlete, playing volleyball and running track. That was until Gardasil vaccine stole her life away from her.
After receiving the first Gardasil shot, she started experiencing severe headaches and nosebleeds, which continued after the second shot and increased in severity and added to her extreme fatigue. After seeing our family physician twice and still not connecting her health problems to Gardasil, Cassie received the third Gardasil shot as well as other vaccines.
That's when everything fell apart. The nose bleeds were severe and the headaches at times were so bad she would hold her head and cry. The fatigue left her unable to move and, then, the flu-like symptoms and severe abdominable pain hit her.
Since receiving her third Gardasil shot, Cassie has been hospitalized four times. She has been diagnosed with pancreatitis, gastrointestinal disorders, and has had pneumonia three times. She is also suffering from various other symptoms including extreme nausea and vomiting after having a central line put in and being on TPN and Lipids (IV nutrition). She has fatigue, dizziness, headaches, hypersensitivity to light and sound, blurred vision, lactation, seizure-like activity, tingling and numbness in legs, and severe pain in her abdomen.
My once fun-loving, active daughter is now debilitated with illness and pain. However, she refuses to allow Gardasil to take away her loving spirit and warm smile. Through all of this she has taught me so much about never giving up and never losing faith in God. Even at times when I was so afraid to take my eyes off her in fear she would not take another breath, she would say "I know God has a plan I know there is a reason for my sickness."
We could all learn a lot from these girls. I know I have. I am so proud of Cassie.
---
Opens in new tab, window
Opens an external site
Opens an external site in new tab, window