Ask 8 Information Kiosk
---
Explore FREE downloadable educational materials.
Report Your Vaccine Experiences
Read and report vaccine reactions, harassment and failures.
Gardasil Ruined my Daughter's Life
Victoria, 17
---
---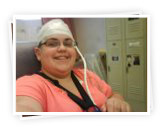 Victoria
Report a Vaccine Reaction to NVIC
Read about similar Gardasil reactions reported to the government

Gardasil Ruined my Daughter's Life
by Victoria's Mom, Jodi
My daughter, Victoria, has been ill since February 2008. She had her first Gardasil vaccination in November 2007. Her second vaccination was in the beginning of February 2008. Immediately after her second vaccination, Victoria experienced severe diarrhea and was nauseous for about eight weeks. She had blood work done many times by doctors looking for a virus. On March 31, 2008, Victoria had her first seizure and was seen by neurologists, none of whom related her seizures to Gardasil. Meanwhile, I started to do research on the internet and found hundreds of families with daughters who have experienced the exact same symptoms my daughter experienced after Gardasil vaccination and are sharing stories, symptoms and information.
Victoria currently experiences the following symptoms: non-epileptic seizures, migraines, fainting, tremors, twitches, numbness, intermittent leg paralysis and facial paralysis, tingling, staring or blank episodes, eye pain, joint pain, neck pain, back pain, memory loss, confusion, brain fog, regression, mood swings and chronic fatigue. She continues to have bouts of nausea and diarrhea. She has not been in school since April 2008. She can never be left home alone. She can't go to school, go out with her friends or work or has little "normalcy" in her life. She has very few good days and always says she doesn't feel good.
Victoria has had CT scans, MRI's, MRA's, EEG's, blood work and was hospitalized at an epilepsy center in the video EEG monitoring unit for two separate weeks in May 2008 and September 2008. She was put on many different seizure medications. After the normal EEG results, she was taken off all medications. Her SED rate has always been high and she does have protein in her urine, but doctors do not seem concerned. She has been seen by neurologists, a psychiatrist, psychologist, several neuropsychologists, an immunologist, several infectious disease doctors. She was treated at a Wellness Center for a period of time. Wellness Center physicians believe that my daughter may have had Lyme disease that was dormant until the Gardasil vaccine. Infectious disease doctors differ. Which doctors are correct? I have no idea.

I do not know which way to turn for help. We have seen so many doctors and I can't seem to find anyone willing to help my daughter. There are so many other young girls who have the same exact symptoms as my daughter . The one thing that all of the girls have in common is that they got one or more Gardasil shots and their health suddenly deteriorated and they were never the same again.

We are on a fixed income like most people. We have expended many thousands of dollars in an effort to seek medical opinions and assistance for our daughter. Although we do have medical insurance, it is very difficult to find doctors willing to treat my daughter who will accept our HMO.
Gardasil vaccine has been on the market for less than three years. There are few "traditional" medical doctors, who will relate my daughter's symptoms to Gardasil. I am told "there is not enough information available" about the vaccine and doctors believe it to be "safe." I have heard that there are a few doctors making the correlation between Gardasil and the symptoms my daughter and many others are experiencing. However, the only doctors I know of right now are in California and Kansas. Other doctors who take an holistic approach are willing to try alternative treatments, such as homeopathy, but alternative health therapies are often not covered by health insurance so it becomes very costly.
Each and every night, I check on my daughter many times in the middle of the night to make sure she is still breathing (like we ALL did when they were babies). I have a chime on her bedroom door so that every time she opens it, I know she has walked out of her room. I had a deadbolt put on the front door of our home with a key that can be removed from the inside. I never leave the key in the door for fear that Victoria will be confused after a seizure or when she has memory loss, and leave our home. (This has happened many times and she has been missing). When she is in the shower, I have to either stand outside the door and/or keep asking her "are you okay?"

We are in desperate need of medical treatment for my daughter. I have run out of ideas, doctors to treat her and our money is running out. I do not know which direction to turn. Why aren't more doctors speaking out and helping our daughters?
Each and every day, I cry and wonder if Victoria will be the next one to die from the side effects of Gardasil vaccine. How many more girls like my daughter will have their lives ruined by this vaccine?
---
Opens in new tab, window
Opens an external site
Opens an external site in new tab, window